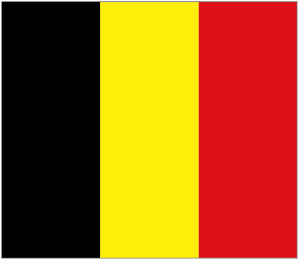 Population: 10,403,951
Capital: Brussels
Area: 30,528 sq km
Major languages: French,  Flemish
Major religion: Christianity
Life expectancy: 75 years (men), 79 years (women) (UN)
Monetary unit: euro
The Kingdom of Belgium is one the world barely hears of with all the noise-makers around it and elsewhere. Perhaps, this is because you would need a microscope to find it on a map. Belgium is a nation near the land of windmills, Netherlands, and the wine-and-cheese country of France. But while the world recognizes Belgium for Belgian chocolates and Belgian waffles, bet a few only knows that Belgians are the creators of the world-loved "French" fries. And, though French maid costumes are frilly, lace is actually from Belgium as well.
Now, might the "French" fries be the raison d'être of its rather ambitious plan to invade France? That probably is not a discussion in many zones in the world for Belgium is big on being stealthy, and it might really work for the Belgians in the completion of this feat. Away from the spotlight, no one can tell how far into the plan has Belgium accomplished. Regardless, there is no reason to not see Belgium with towns smelling like waffles, chocolate, and deep-fried potatoes. For that alone, Audrey Hepburn and Jean-Claude Van Damme's birthplace should be on top of everyone's travel destination wish lists.
GEOGRAPHY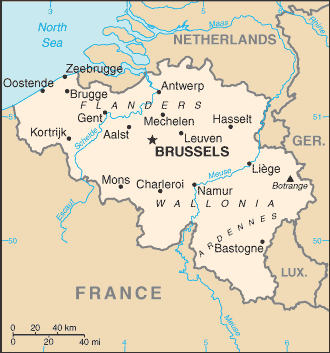 Belgium (50 50 N, 4 00 E) is a 30, 528 km2 land situated between France and Netherlands, and bordering the North Sea. The country also shares borders with Germany and Luxembourg. Belgium is mostly flat coastal plains in the northwest, and rugged mountains and forest (Ardennes) in the southeast.  Thus, arable land is massive, about 27.42% of its total area. The highest point is only 694 m above sea level, formed by the Signal de Botrange. And, as it is mostly flatlands, flooding is a natural threat along rivers and reclaimed coastal lands.
CLIMATE
The Belgian climate is classified as temperate, characterized by mild winters, cool summers, and rainy days in between. Belgium's maritime temperate climate is manifested by significant precipitations in all seasons. The temperature is highest in July with an average temperature of18°C, and lowest in January with 3 °C. In relation to weather, the best time to visit is between July and September, and it works that there are less tourists and more discounts.
PEOPLE
Despite the disconcerting climate, the Belgians are as warm and pleasant as their waffles, as modish and classic as their lace, and as culturally versatile as their greatest invention, the French fries. The original Fleming inhabitants of the territory have been wiped out during the Roman era. The modern Flemish, the predominant ethnic group which consists about 58% of its 10,423,493 population are distinguished not by ethnicity, buy by language spoken and place of origin. Other ethnic groups include the Walloon, an ethno-linguistic group as well, and mixed ethnicities of German, Spanish, Austria, France, Dutch, Turkish, Moroccan, Italians, and so on that have mingled over time.
LANGUAGE
As a result of Belgium's multi-cultural make-up, the country has three official languages:  DUTCH (Flemish), FRENCH, and GERMAN. Belgian Dutch and French have minor differences in vocabulary and semantic nuances with
the original languages. French, more importantly, is the language of the ethnic group Walloons which make up 31% of Belgium's population, all in all spoken by about 40%, while German is spoken in by 73,000 people in the eastern Walloon Region. Less than 1% is legally bilingual (Dutch and French), and signs are typically bilingual as well. There has been no census conducted on the language demographic distribution of these languages or Belgium's other languages.
RELIGION
Belgium is generally Catholic, especially in Flanders, adhered to by 75% of the population, followed by Protestant and Muslim. However, church attendance is dropping over the decade, and minority religions are slowly gaining favour such as Hinduism, Buddhism, Anglican, Greek/Russian Orthodox, and Jewish.
ATTRACTIONS
The truth to the lace, the pommes frites, waffles and chocolate is Belgian History 1010. However, its relevance to contemporary culture is still faded out, making it all the more challenging to realize why Belgium is the place to be, and not just for budget travellers. Belgium has a lot to offer everybody, you see. There's a wide scope of attractions in part due to its multicultural facet, just as countless as the beer variety here. But a trip to the heart of Belgium should soften the cultural shock-Brussels.
Brussels is big on art nouveau and cosmopolitan living, and it's the perfect cushion and introduction to authentic Belgian culture. Just around it are equally amazing cities of Antwerp, Bruges, and Gent. All of Belgium's cobbled glory can truly put France to shame. And look at the architecture from the Castle of Harze to the Grand Place. Definitely, what you would hope to find in Germany, France, and Netherlands such as the majestic palaces, stylish cafes, and well-designed mills, Belgium has.
Each city is famously identifiable, like Antwerp, which holds the Diamond Museum. Antwerp controls the 80% of the world's rough diamond market and 50% of polished market. There are other museums to behold such as the MoMu (Mode Museum Fashion Museum) which is reasonable with the origins of lace draped around Belgium's history, and the Royal Museum of Fine Arts, both in Antwerp, whilst many others are found scattered all over. In terms of
activities, there are activities more raw than state-of-the art like skating in the Bruges canal, trekking, cycling, and spas.
FOOD
Don't forget eating as a must-do in Belgium, for if there's anything definitely impressive here, that is the cuisine. Belgian cuisine has been described as of "French quality" in "German quantity". The country that fashioned the world's most favourite foods like the French fries and chocolates, leave so much more to be explored for the foodie.
Forget fish and chips, and say hello to moules frites (mussels cooked in wine, onion, and celery with chips).  The Boulets Liégeois or meatball-and-fries combo is also rather tasty with the special sauce on it. The stoemp, on the other hand, is a traditional meal of mashed potatoes and carrots with bacon and sausages that is hearty and Belgian in every way.
And no trip to the "nation of gourmands" is complete without the authentic light Belgian waffles that have been dusted with powdered sugar.  This one you can find in many street corners especially in heavily-touristed areas. But, as concerns the famous Belgian chocolates from chocolatiers Galler, Godiva, Guylian, Leonidas, Marcolini and Neuhaus, their delectable bites can be found anywhere. The most genuinely luscious Belgian chocolates are tucked away in tiny boutiques.
Belgium is truly an important crossroad in Europe. The fusion of cultures, architecture, and cuisine is just seamless. This is absolutely one country in the continent where you can definitely experience real Europe. So if your Euro Trip is but for a few weeks, make sure to drop by to Belgium for an exquisite taste of food, cultures, games and moral freedom.
***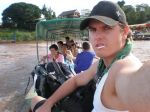 Joshua Boorman - Editor-in-chief
Herika Manaligod - Blog Editor
Email: admin@backpackingaddictz.com
Facebook: Facebook.com/backpackaddictz
Twitter: @backpackaddictz
Backpacking Addictz is a website set up by backpackers for the use of backpackers. On this site you will find valuable backpacking information surrounding different destinations and countries from around the world.