Backpacking to Halong Bay – Vietnam Adventure: Today is Halong Bay day and I am revved up and super excited for the adventure ahead since I had heard so much about Halong Bay as a must do on my backpacking list.
I was up early at 6:45am so that I could finalize any last minute packing, check out and be ready for the 8am tour van to pick me up from my guesthouse in the Old Quarter of Hanoi. In a mad rush I got up and got ready to be all prepared and ready to go by 8am but I should have known that nothing in South East Asia every occurs on time.
At 8:40am the van finally arrived and after making another couple of stops to pick up some other backpackers we were soon on our way to Halong City. I quickly got chatting to a friendly German couple (Philippe and Carolyn) on the van and we ended up discussing about many things – mostly travel related. However, it was just good to have some new people to hang with.
We arrived in Halong City and pulled up near the Halong City Harbour – there was the usual unorganized chaos at the harbour, tour guides, backpackers, tourists, police and boat crews running around like mad everywhere.
We finally got onto one of the many "Junks" sitting in the harbour. These Junks are traditional Asian wooden boats. I now know why they call them junks – because they are junks of shit! The harbour was full of these junks – many of them literally falling apart. Obviously, the conditions of many of the different junks varied, however I could only imagine what types of vermin had made their way onto these junks and turned them into their new homes.
We cruised off to discover Halong Bay.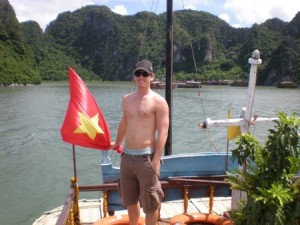 First stop was at a very touristy spot called "Thien Cung grotto" where there was some spectacular caves. The actual cave itself was an incredible natural formation, apparently created over approximately 30 million years ago, it was apparently only discovered in 1993.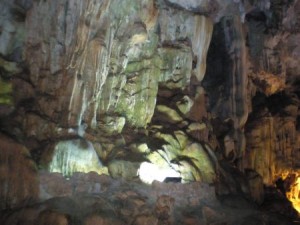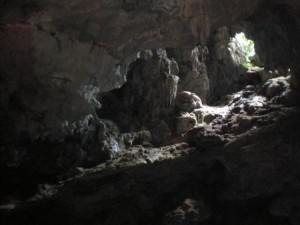 Its true natural beauty was tarnished by the touch of tourists. For example the caves were filled with silly neon lights, which, sure it lit the cave up but it also created a tacky and tainted feel to this beautiful natural wonder.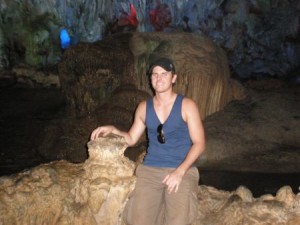 There was a paved footpath and silly Sea World theme park like penguin statue that were actually rubbish bins that were scattered throughout the caves. Very tacky! I actually thought I was at a theme park at one point in time.
In saying this it is undeniably a remarkable natural wonder of the world which has clearly held its natural beauty for millions of years before it was discovered my man and used as a money making venture for local Vietnamese.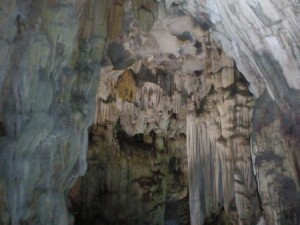 We jumped back on the boat and had some lunch – we were quite unimpressed with and throughout the trip and appropriately labeled its as the "junk food".
We made our way around many of the astonishing limestone cliffs jutting their way out of the green colour water.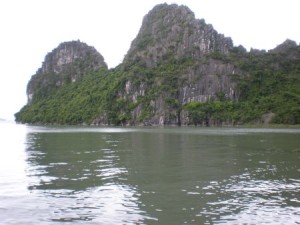 We made it to an area where there was a great deal of floating pontoons and boats all linked together which housed all the kayaks that we were about to use. Strangely enough the locals had these small fish farms cordoned off in between some of the pontoons. The cat fish swimming around inside them were huge.
I quickly made friends with some of the backpackers on our junk. Brian was a lay back cool American fellow, Manu was a quirky French guy who tended to be very humorous in his own way and Alex another French guy who was very loud and the life of the party. These 3 guys all worked together in Washington D.C. in the United States. We ended up partnering up and went kayaking around a number of the limestone cliffs and caves. We were told that a great deal of filming was done around these areas for the James Bond film Tomorrow Never Dies.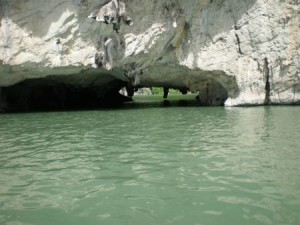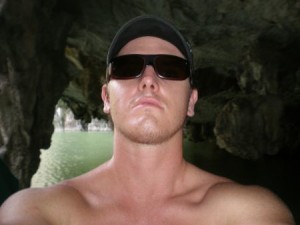 Back on the junk we made it to a nice secluded spot where we anchored off for the night – we were able to get some diving off the boat and swimming in before the sun went down. The waters were extremely salty which tended to create an extra buoyancy whereby your body was able to float high up on top of the water. The water was also this mysterious emerald green colour that was quite murky – it was actually quite eerie as anything could have been lurking in the waters below.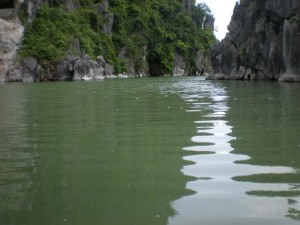 After a rest and a swim we all sat down for dinner – more shit junk food. I experienced my first official proof of my earlier thoughts regarding the junks local vermin inhabitants. I was chowing through my meal as though I was in starvation since I was so hungry and then out of the corner of my eye I saw a slight flash cross past my foot. I looked up and there was another Australian guy on the able across from me who said "Yes that was a RAT!" All of a sudden I was instantly full and my appetite disappeared as fast as the rat did.
After dinner nearly everyone on the boat got together on top of the junk for some drinks and socializing.
Alex introduced us all to this fantastic psychological group game called "Killer".
Everyone picks a card and there are 3 kings in the group. They are the Killers! Everyone them shuts their eyes – the person who is killed is out and then everyone must decide and vote on who the Killer is. If the game ends up with more Killers or equal amount of Killers to what there are innocent players left in the games then the Killers win. The innocents have to pick who the killers are.
We continued drinks, talking, listening to music and playing games well into the night. Great fun with some great backpackers from all over the world.
***
 Backpacking to Halong Bay – Vietnam Adventure by:
Josh Boorman
Editor-in-chief
Backpacking Addictz
Twitter: @backpackaddictz
 Backpacking to Halong Bay – Vietnam Adventure:
Comment or connect with us if you have similar backpacking to Halong Bay – Vietnam Adventure, we would love to here from you.