Roaming around Vientiane
Goodbye Laos
Hello Hanoi, Vietnam
Old Quarter
The Aussie Connection
Break and Enter Aussie Style
Roaming around Vientiane
I awoke from my semi-unconscious comber feeling quite hazy and clouded predominantly due to copious amounts of alcohol, opium and painkillers that I had consumed the night before. My last faint memories before I drifted off to sleep last night was watching episodes of Seinfeld on the cheap pirated DVD copies and a $40 USD portable DVD player that I got at MBK in Bangkok.
I gathered my possessions and checked out of Joe's Guesthouse at 11:30am and I left my backpack at the travel agent who I had organized my Vietnam visa through the day before. The travel agents didn't mind looking after my belonging considering I had to see them again at 4:30pm to pick up my Vietnam visa.
I spent the rest of the day wandering around Vientiane. To be quite honest I wasn't all that impressed with the capital of Laos, I mean it was ok but nothing to write home about. Hmm well actually that's exactly what I find myself doing now hahaha.
Wandering around the dusty and flat capital there didn't seem all that much to do, I had lunch in a trendy café and caught up on all the latest international news on CNN and world newspapers. It was amazing how quick the day tended to go and after spending a few hours window shopping and checking out a few local book shops and the local shopping centre I realised that I had better head back to the travel agency to grab my new Vietnam visa, my backpack and make my way out to the Vientiane airport – destination Hanoi, Vietnam.
Goodbye Laos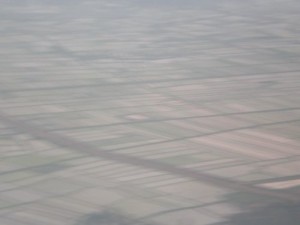 Laos rice fields from the aeroplane leaving Vientiane
As I waived down a local tuk tuk a huge thunder storm started rolling in, this was certainly cause for concern since I was just about to board an international flight in one of the most remote Asian countries in the world.
I recall thinking to myself that 'at least I was flying with Vietnam Airlines and not the smaller and lesser known Laos Airlines'. I sent mum and dad a quick text message to let them know that I was thinking of them and also that I was slightly worried about my upcoming flight. I remember feeling a lot more at ease when the pilot came over the loud speaker before taking off and clearly spoke with an Aussie accent.
Hello Hanoi, Vietnam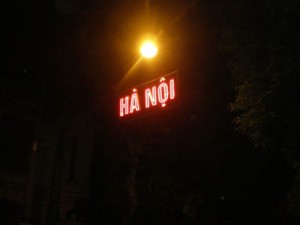 I arrived in Hanoi, Vietnam without a hitch and quickly realised that this place was vastly different to that of Thailand and Laos. The language in Vietnam is very different and a lot more quickly spoken. On top of this the Vietnamese understood little to no English whatsoever. Oh dear this is going to be an interesting twist in my backpacking adventures.
Wow and I thought Bangkok was chaotic and then Hanoi just took chaos to an all time new level in my books, to put it lightly – this place was FUCKING INSANE. With probably 20 bikes to 1 car on the roads and everyone beeping their bloody horns and jostling for a spot on the road.
Old Quarter
I paid approximately $20USD for a taxi from the international airport to the area of Hanoi where I was staying in the "Old Quarter" section. I am pretty sure that I got slightly ripped off with this taxi fair but when you starting fresh in a new country as hectic and foreign as Vietnam I guess you have to provide for such allowances.
After checking into a nice little guesthouse I immediately went to hunt down some dinner since I was starving. As I strolled down the streets of Old Quarter I saw a small group of white people who were walking in the opposite direction and I decided to stop them and ask them if they knew of any good places to eat especially since it was 11:30pm and most places were closed at that hour.
The Aussie Connection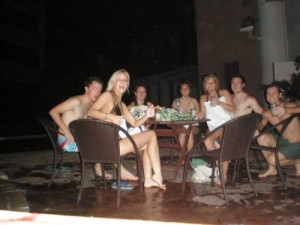 Funnily enough the small group of white people ended up being a group of Aussies – this was amazing and after so long from being out of touch with my own nationality it was such a pleasure to hear the twain of the Aussie accent – it was like music to my ears.
They were all so very friendly and they just said come and join us for a drink. Forget dinner – the opportunity to piss up with some Aussies was to good to pass up. I immediately agreed and did a full 180 degree turn and tagged on with my new found friends. This was the most random experience that I have had thus far on my backpacking adventures, I was becoming used to meeting random people from all over the world but meeting this crew of Aussies was so easy it was like catching up with old friends.
Break and Enter Aussie Style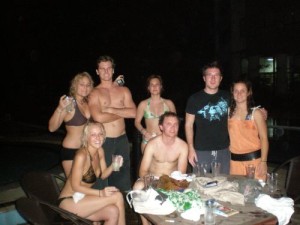 We all headed to a local 5 star resort, I think it was the Marriot, where we snuck our way in with some Asian guests and decided to go for a swim on the rooftop pool. Due to the unpredictability of this whole night I had not planned on taking a dip anyway in Hanoi. However, due to the ridiculously hot weather it didn't take me long to strip down to my boxer shorts and dive straight in.
We ended up ordering a few drinks and lazing under the shimmer of the moonlight on the rooftop around the pool. We had a lot of laughs and fun this night and it will be a very random and unforgettable night, which I have fond memories of.
I got everyone's facebook details and promised to stay in touch with them all as we continued our journey's down the tour of Vietnam.
A big shout out has to go out to Clarke, Toby, Jen, Carla, Sally and Kym. I hope you guys eventually read this and remembers the fun memories as much as I do.
***
Josh Boorman
Editor-in-chief
Backpacking Addictz
Twitter: @backpackaddictz