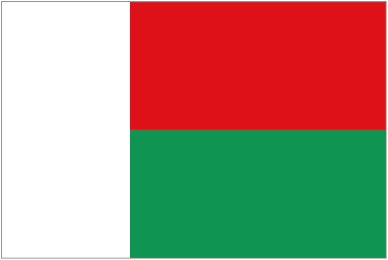 Population: 18.4 million (UN, 2005)
Capital: Antananarivo
Area: 587,041 sq km (226,658 sq miles)
Major languages: Malagasy (official), French
Major religions: Indigenous beliefs, Christianity
Life expectancy: 54 years (men), 57 years (women) (UN)
Monetary unit: Ariary
Backpacking in Madagascar
Madagascar is the world's 4th largest island (larger than France) and, eponymously, the movie Madagascar by Dreamworks is the highest-grossing animated film in the domestic box office in its year of release. Although the animation rendered the country the attention and Google searches for which it did not so much have prior the release, nothing can deny the inspiration for the film was the island itself. The fine white-sand beaches, lush rows of green, and the remarkable wildlife as depicted in the animation is not far from the truth. Trees, plants and wildlife veil the island, and fact is there are a lot of flora and fauna that are indigenous to Madagascar.
True enough. the country is as unique as its name being the only country spelled with four A's. Certainly, there's more to this paradise than the "island travel package" that normally comes with being essentially and geographically "tropical". The former French colony (until 1960) has many towns that continue to remain as quaint as the suburbs of France with its cobble stones and Parisian-style architecture. But for the price of developing cultures and tourist infrastructures such as roads and hostels that attract tourists to the hidden natural treasure that is Madagascar, the Madagascan environment, which the outside world represented the island nation for decades, holds the bill.
There's only 10% of forest left, which is no recompense for some few thousands of tourists annually. Worse is, politically-motivated violence causes a great dent in the tourism of Madagascar, that not even Dreamworks can salvage. The crisis has hit every sector of the islands tourism industry, reducing hundreds of hotel guests to 1. The country is safe for travel, if need be said. No tourist troubles since the conflict was heard of, no bombings, nothing like the Bangkok sort of politically-motivated conflict, really.
GEOGRAPHY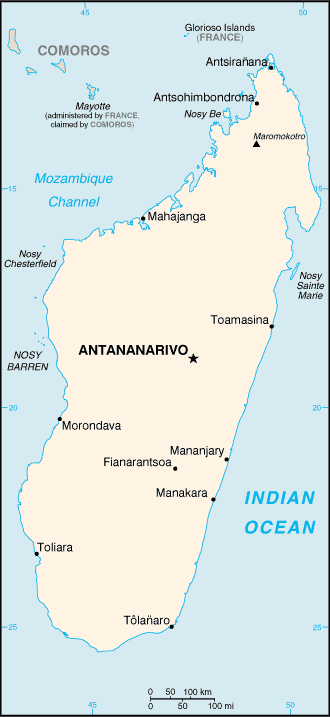 The Republic of Madagascar (20 00 S, 47 00 E) is 587,041 km2 of tropical island paradise, the fourth largest island in the world, with mountains at the interior and coastal plains that margin the Indian Ocean. There are highlands and plateaus and forest lands as well. The highest peak is the Maromokotro at 2,876 m in Tsaratanana Massif.
CLIMATE
Madagascar has a rather unique climate that is moderate or temperate inland, tropical along the coasts, and even arid down south. Generally, there are two seasons. The wet season from November to April is hot, while it gets cooler from May to October during the dry season. High-altitude regions as the interior highlands and the massif experiences snow during winter, albeit on rare occasions.
PEOPLE
The Madagascans or Malagasy, locally, have a population of 21,281,844 at the very latest. The Malagasy come from 18 tribes of Malayo-Indonesian descent mostly, like the Cotiers (African-Malayo-Indonesian-Arab). Also, there are small tribes of French, Comorans, Indians, and Chinese.
LANGUAGE
The MALAGASY is the official and most widely-spoken language throughout the land and is Malayo-Polynesian in origin characterized by significant regional variations. FRENCH is also an official language that is preferred and spoken among the educated, while ENGLISH, also one of the three official languages of Madagascar, is taught in primary grades within the country, rising to its own right as global language that Madagascans are realizing now, more than ever.
RELIGION
A sizeable population of Malagasy are adherents to traditional beliefs, 52%, while Christians make up 41% of the population that's evenly distributed between Catholics and Protestants. Muslims comprise only 7% of the population.
ATTRACTIONS
Plodding and trodding through Madagascar, the traveller will find that it has a staggering landscape with vegetation and wildlife that cannot be found elsewhere. Although it is not the lush, tropical, forested, and undeveloped island that we'd concocted in our heads as kids, the massif reserves remain a parcel of all this gloriously green past. The Andringitra Reserve in Fianarantsoa is but a tiny slice of the lingering forest shroud that is at present less than 6,000 km2. Wonderful to behold in Madagascar are the baobab trees that legend has it, were very proud trees that upset God. So, He pulled the whole tree out the ground from where it was rooted and plunged it back upside down.
The beautiful highland town of Fianarantsoa, in its entirety is quaint and charming as suburban Paris in the early 1900's with its cobbled winding streets that can also be found in towns like Toliara and many other Madagascan towns, all the while, of course, possessing a characteristic Malagasy architectural flair. Antananarivo, the capital of Madagascar set on hills, also exudes that dramatic old European charm with tons of structures made of brick, stone, and wood. What's not to love about a rickshaw of things both European and tropical.
For your own traveller trail, to the north of Finanarantsoa is Ambalavao that is slowly opening up to the rest of the world what natural treasure it has been concealing for more than 30 years. Markets and roads have sprung adding to the already wonderful ecology that is here. This and Toamasina is "living la vida local" and are absolutely extraordinary places to be with the Malagasy. And while it may take until daybreak to get to the coast from any point in Madagascar for the slow drag that their old Swiss trains move to, the coast in daylight looks unbelievable, particularly Madakara, a lazy seaside town with the end-of-the-world feel. Rarely and oddly will one say in Africa of a "journey filled with contrasts", but that is what Madagascar is.
FOOD
At the portico of a Malagasy Hotel say in Northern Mahajanga is a good place to contemplate about culinary experiences in Madagascar. In Madakara, I can say one will have an incredible time culturally and gastronomically, even without electricity for the most part. The Malagasy diet is largely based on rice or vary, lots of it, and a typical dish would be mounds of rice topped with meat as zebu steak, beef, seafood, pork, and chicken. A lot of these meats like chicken are organic or synonymously, "little to no meat". At least these are no GMO's, the kind of species you'll fart your wits out when you see.Baguettes are the French legacy and remains to be one of the most commonly sold and enjoyed breads in Madagascar.
As their unbelievable landscape has vegetation in all shades of green, the Malagasy gastronomic spectrum is of similar diversity. Common dishes include chicken dishes like akoho (chicken and ginger sauté); beef dishes like romazava (beef sauté with greens, tomato, onion, and ginger); pork dishes like ravitoto (cassava leaves with pork or peanuts), hena'omby (pork and ginger sauté) and voanjobory (peas and pork); fish dish like trondro gasy (white fish with zucchini and tomatoes); and cattle dishes like kitoza (spiced cattle). Part of the exoticism of Madagascar, fruit bats, wild birds and crocodiles are also ready to be served upon request, which are basically as eccentric as the national dish, the koba – a combination of rice, banana, and peanut. 
The Malagasy are "dessert" people (not desert). I mean, what does one think of a country where 80% of the population are into agriculture, where the major produce are baking essentials as coffee, vanilla, sugarcane, cloves, cocoa, and peanuts. Desserts, right? Traditionally, fresh fruit sparkling with sugar crystals is dessert, and with the temperate and tropical climate, varieties are never limited, ranging from apples, oranges, lemons, cherries, strawberries, to tropical sorts like watermelon, limes, mango, pineapple, guava, avocado, and coconut. Fortunately, the Malagasy have learned their trade, and now, chocolate and truffles are part of the dessert equation. And if the aphorism "we are who we eat" holds true, the Malagasy are indeed naturally sweet, interesting, vibrant, and fresh people.
***
Backpacking in Madagascar
Backpacking Addictz looks at Backpacking in Madagascar.