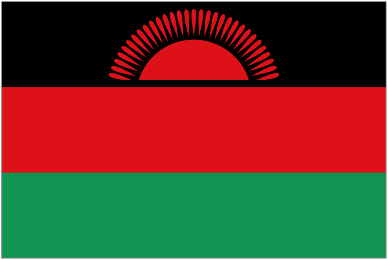 Population: 12.6 million (UN, 2005)
Capital: Lilongwe
Area: 118,484 sq km (45,747 sq miles)
Major languages: English, Chichewa (both official)
Major religions: Christianity, Islam
Life expectancy: 40 years (men), 40 years (women) (UN)
Monetary unit: 1 Malawi kwacha (MK) = 100 tambala
Backpacking in Malawi
The Republic of Malawi is a remarkable little pocket of African landscape tucked and landlocked between Mozambique, Zambia, and Tanzania. Most of the world has never heard and still ought to know more about Malawi. Until the controversy of Madonna's Malawian adoption, neither the press nor the people gave the tiny sliver of land the time of day. It's a nation daunted with immediate effects brought upon by AIDS such as mortality, child labour, and orphans. Even if the country ranks 15th in the world for the most number of people living with AIDS where there are almost a million, the crisis this creates magnifies the situation, especially when it comes to those that concern the younger generation. This is only part and parcel of a larger issue, traditional practices towards sex that results to sexual abuse, early pregnancy, forced prostitution, and HIV spread to children, mostly girls as young as 6.
Malawi demands reformation and information dissemination for the world to see the country is in dire need for a miracle. A million of Malawian children are orphans, and a huge lot suffer from AIDS. And if Madonna's documentary on the "Life in Malawi" is creating controversy, it's working for the good of Malawi. Needless to say, with this newfound awareness courtesy of the pop icon, tourism is slogging towards development. Festivals and tours contribute BP 100,000 annually to the economy. But as backpackers know so well, when there is general anonymity and invisibility of a place, there are incredible potential and wonderful secrets to behold. While there may be no golden coasts, Malawi is practically that microcosm of an African Safari, the only difference is, elbow room.
GEOGRAPHY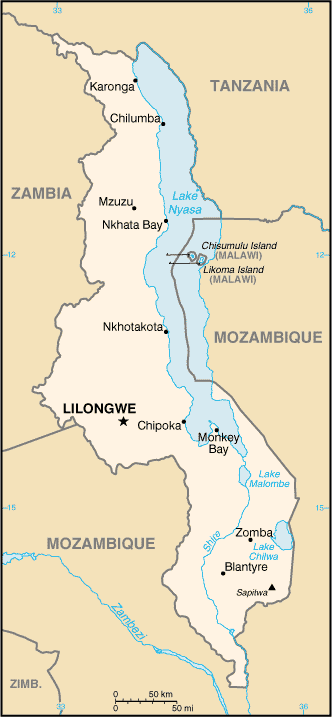 Malawi (13 30 S, 34 00 E) in South Africa is landlocked with an area of 118,484 km2. The country boasts of a diverse terrain of plains and valley, rolling to plateaus, hill, and mountains. The summit, the highest in the land is Mount Mlanje 3,002 m above sea level. The Lake Malawi is an important geo feature and constitutes 20% of the country's total area. On the other hand, the lowest point is 37m from the sea level, a junction of the Shire River and international boundary with Mozambique.
CLIMATE
The climate is subtropical and is generally hot and humid. The rainy season runs particularly from November through April, and the dry season is from May to October.
PEOPLE
To date, the population records 15,447,500 Malawian inhabitants of various ethnic groups of natives and creoles. The native ethnic groups, listed by decreasing population are the Chewa, Nyanja, Tumbuka, Yao, Lomwe, Sena, Tonga, Ngoni, and Ngonde, albeit the land is also home to Asian and European populations. The the spread of HIV is a social issue by large credited to the population's old beliefs on sex that fundamentally approves sexual abuse and paedophilia, patriarchal subordination, polygamy, and unprotected intercourse.
Hence, the blight heavily weighs down on children especially women who from a very young age, pre-adolescence even, are subjected sex by elders based on these beliefs. They can contract the virus, get impregnated, live in poverty, be forced into prostitution and eventually phase out any hope of a bright future, or just a future nevertheless.
LANGUAGE
CHICHEWA is the official language, as is ENGLISH. However, other languages are also considered major such as CHINYANJA (12.8%), CHIYAO (10.1%), and CHITUMBUKA (9.5%).
RELIGION
Malawians are predominantly Christian. Almost 80% of the population practice the Christian faith, Protestants up to 60% and Catholics with 20%. Muslims, which are mostly of the Yao tribe of South-eastern Malawi, comprise only 20% in comparison. The remainder affiliate to practices of Indigenous African beliefs.
ATTRACTIONS
We have gone on and on about what a sourdough living in Malawi is. Now, the spectacle that is Malawi revolves around its lush nature and diverse wildlife. Better than Guinea and Nigeria because they have running electricity and paved roads. Although quite unlike Madagascar, Malawi can't boast of beaches because it is landlocked, sure, but it's not so much of a bad thing now. Wildlife and game watching are superb at the top parks such as Lengwe, Liwonde, Vwasa Marsh, and Nyika National Park. For a change, here is the world's firstfreshwater national park, the Lake Malawi National Park where the traveller can go "Lo and behold!" to some 500 species of vividly coloured fish that inhabit the huge lake. When in search for that change of leisurely pace to some adrenaline-gushing activities, water sports might just do it.
All sorts from swimming, kayaking, waterskiing, sailing, snorkelling, and diving can be done here with an upgrade, which is the fresh-frigging-water. There also are activities on land such as cycling, trekking, hiking,  and horseback riding that gives amazing ops for wildlife viewing be it at Zomba or Viphya Plateaus where a bird's plume stands out in all the foliage. Or, perhaps, the sloped terrain of Chiradzulu, Dedza, Michiru, Ndirande, and the Golomoti Escarpment for a bit of a challenge? The best bit as of yet, with the general condition of the Malawi tourist industry, is the local culture and flavour where the traveller is certain to do very well with making it with the Malawians even without proper Chichewa knowledge. Don't fail to visit a green and plush Malawi tea estate.
FOOD
The Malawians have a sort of juvenile life expectancy of 40 years old, because it's simply so young an age to die. In the West, this isn't even the formal onset of Midlife Crisis.  Reasons point toward poverty as root really and it's sad that Malawi dishes can't be enjoyed to its entirety by the locals themselves who does Malawi food the best. The staple diet of the Malawians consists of a maize meal that is ubiquitous in Africa called nsima in these parts and served with beans, vegetables or meat drizzled with a little tomato and onion sauce, or during tough times, just a plate of plain nsima. This or chippies (frites) are offerings they take to the streets as well. Other Malawi starches include potatoes, cassavas, and the five-star starch, at least for the locals, rice. Tilapia or chambo is the quintessential fish, the country's specialty.
Restaurants offer world cuisines such as European, Chinese, and Korean, as well as American fast foodstuff and fancy and glamorized authentic Malawi dishes, but then again, home cooking is at par to none when it comes to hospitality and generosity. Malawians would rather their guests eat to their fill whilst they have so little. And when the guest compliments the host or cook, they are good for the day, or for a long time.
***
Backpacking in Malawi
Backpacking Addictz looks at Backpacking in Malawi.