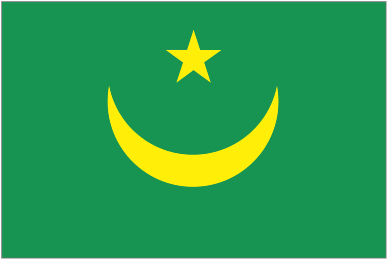 Population: 1.3 million (CIA,  2010)
Capital: Port Louis
Area: 2040 sq km
Major language: Mandarin Chinese
Major religions: Hindu 48%, Roman Catholic 23.6%, Muslim 16.6%, other Christian 8.6%, other 2.5%, unspecified 0.3%, none 0.4% (2000)
Life expectancy: 70.77 years (male) 77.89 years (female)  (2010 est.)
Monetary unit: Mauritian rupee rate is EURO 1.00 = 43.10 rupees
Backpacking in Mauritius
The Republic of Mauritius, South of Africa, is amongst the Top 3 wedding spots in the world and has long been the bird's nest for lovers in love. This is the dream destination for weddings and honeymoon for the classical romantics. Never to be brushed off as just another "tropical paradise", an accolade most countries in the tropics go for, Mauritius prides on its rareness and individuality. Sure, it does have the whitest sands, the warmest and clearest waters, and most graceful palms. Nonetheless, its beauty does not end there. Blessed far more by God, like they would normally say, the economy is in a good place and time, the people can't be more happy and pleased.
Granted the place is heaven on earth, the people and the culture make the place even more dreamy. Mauritius maintains the flair of its past. It has been Dutch, French and British, and more cosmopolitan and self-sustaining than ever. Diversity is routine, at the same time nothing personifies "melange" like Mauritius. There is low unemployment and even lower poverty ratios. The country thrives on package travellers mostly families and honeymooners, but the island is big enough for alternatives and opportunities for the backpack traveller. Did I mention the locals are happy?
GEOGRAPHY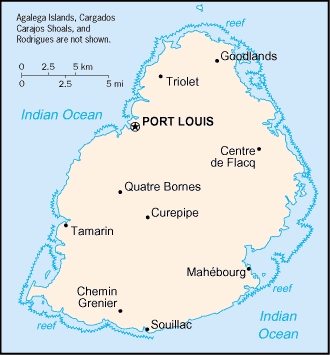 Mauritius (20 17 S, 57 33 E) is only 2,040 km2 of volcanic island and is definitely among the smallest in the world. The terrain comprises of coastal plains rolling inland and surrounding a central plateau. The highest point is Mont Piton that is 828 m above sea.
CLIMATE
The climate is certified tropical due to its location in the Indian Ocean. Mauritius is hot, wet, and humid as it is surrounded by water. While it is sunny for the most part, there is a cyclone season from December to April. The dry season, that is also winter time, takes place from May to November and is convenient time for travel.
PEOPLE
Mauritius has a population of 1,294,104, roughly 600 people per km of land, with the Mauritians densely inhabited in Port Louis.    Mauritian society is under a caste system in racial and religious tolerance. The biggest ethnic group is that of Indo-Mauritians (68%) whose descendants were brought in to the archipelago when their labour was needed for sugar plantations. Creoles (27%) are the second largest. Then, there are Sino-Mauritians (3%) and Franco-Mauritians (2%). The mishmash just begins, as there also have settled enclaves of Chinese and Europeans.
LANGUAGE
Mauritians speak either MAURITIAN or FRENCH CREOLE, FRENCH, and ENGLISH. The lingua franca is Creole (80%), albeit, officially, it is English in the Parliament and of business regardless it is spoken by less than 1% of the population.  You'll also hear French a great deal as the langue of social status, the media and education. A minority of Mauritians of South Asian descent speak HINDI, URDU, HAKKA, and BHOJPURI.
RELIGION
As a result of waves of slaves from India, the predominant faith is Hindu with adherents that count 48% of the population. Christians make uo 32.2% of the general populace of mostly Roman Catholics. Mauritian creoles and Franco-Mauritians are, by and large, Christian. Following that are Muslims at 16.6%, and some other traditional religions.
ATTRACTIONS
The mere name "Mauritius" impresses a luxurious romantic and ridiculously grandiose holiday for couples and families. A backpack travel is typically not part of the general franchise. However, Mauritius is not just another tropical boat tow. There are loads to be accomplished here besides a novelty underwater wedding. Historical edifices and museums like the St. Louis Cathedral or the Mauritian Natural History Museum respectively, an oasis of serenity in the midst of the hectic St. Louis district, provide panache to Port Louis, the capital of Mauritius and the wealthiest African city. Activities on land are fun, fulfilling, and diverse from golfing, to trekking, and mountain climbing. Need you ask about aquatic fun? There will always be water sports. After all, that is what Mauritius is famed for, save for jet skiing because they were rendered too dangerous.
Surf's up in Mauritius! Yeah, tucked away is Tamarin, the famed "surfing spot" and location for the 70's surfer movie, The Forgotten Island of Santosha. Although indie travel isn't the rave here, it isn't impossible and absolutely worth the time and money. There are economic accommodations like hostels in La Gaulette for example which is personally a pick because it is a stone's throw from Le Morne beach resort. Aside from the beach, the village has a bank, a supermarket, convenience stores, boutiques, and restaurants too.
Basically, the cities are small so shopping can easily be done, if that's your calling, at least until 4:30 pm that is. A hiking trip is also amongst the fave rave of indie travelers because it's generally low cost. Beyond that, the nature and the surroundings are lush, lively, diverse, and at the same time unique that the now extinct Dodo bird once found the best habitat for his survival, although that didn't go well.
FOOD
Mauritian cuisine is a range of world influences blended into the creole gastronomy that is now distinctively Mauritian. The Mauritian cuisine is a mélange of French panache, British royale, Dutch classic, Indian exotic and Chinese savoury. Strip your thoughts of luxury restaurants and discover Mauritian culinary that's taken to the streets and the homes. The foods that locals delight in, these hawker street foods are ideally Mauritian.
Depending on region, rice and faratha (flat bread) are the staples providing a safety net to the extensive use of spices in many dishes, take curry. But on a daily basis, the traveller will find the creole rougaille made of meat and/or seafood with a tomato-onion base as a widely enjoyed dish. Creole biryani which is spiced rice with meat and potatoes is as equally savoury. Indian dishes such as samosas and curries are the typical grub, but take it up a notch you can enjoy octopus curry in bread Mauritian-style.
As for desserts, I'd have you know, this is a confection paradise too. Desserts are enjoyed much longer than the main meal itself. At the end of the day, Mauritius is known for "white gold", sugar as we nowadays calls.  Flaky, crumbly, or silky, French pastries and cakes are darn good, so good, you'll eat less of the rice dish to give room for it, but maybe that's just me. Indian desserts are also to be expected for some gastronomic experimenting such as the salty, tart, but sweet rasgulla. Look out for the gateaux.
***
Backpacking in Mauritius
Backpacking Addictz looks at Backpacking in Mauritius.