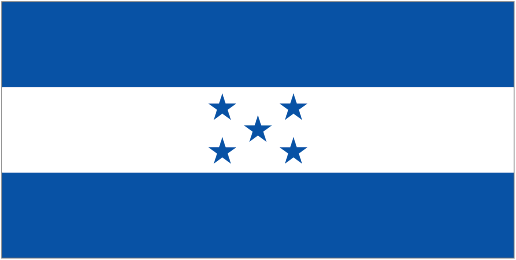 Population: 7.2 million (UN, 2005)
Capital: Tegucigalpa
Area: 112,492 sq km (43,433 sq miles)
Major languages: Spanish, indigenous languages, English
Major religion: Christianity
Life expectancy: 66 years (men), 70 years (women) (UN)
Monetary unit: 1 lempira = 100 centavos
Backpacking in Honduras
The Republic of Honduras creates quite a stir along with its Central American neighbors for suffering through the worst of climate changes, to add to a controversial, massive illegal logging situation. In fact, on October 2011, Honduras, like Guatemala and El Salvador is a landscape of deadly floods and landslides time and again, suffering persistent rain for days at a time, similar though not as severely damaged as when Hurricane Mitch hit in 1988.
Famed as well for Honduran America Ferrera and many other remarkable individuals, the country recently hauls an increasing number of visitors, banking on tourism as a major industry. Soaring poverty, crime, and trafficking poses a threat to the success of a flourishing tourism industry, Honduras remains an irresistible destination for foodies, culture-vultures, and history junkies all the same.
GEOGRAPHY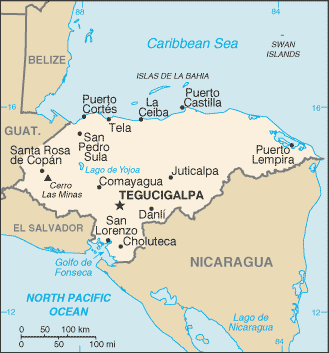 Honduras (15 00 N, 86 30 W) is a 112,090 km2 territory in Central America, bordered by Guatemala and El Salvador the the west, and Nicaragua to the south and east. Honduras is a country of lowlands and fertile valleys, with a mountainous interior. The highest point in all of Honduras is Cerro Las Minas, 2,870 m above sea level. Honduras is one of the major suppliers of King Prawns to Marks & Spencer and prides on a major banana port, La Ceiba. Timber is a major produce and illegal logging, just as major a nationwide predicament.
CLIMATE
Honduras is hot and humid the year-round due to its tropical climate. Weather and temperature varies by altitude rather than by season. In particular, Honduras is mainly subtropical in the lowlands while temperate in mountains. Temperatures are thus the coolest in the mountain areas. Honduras experiences a lot of rain for the most part, only further aggravated by major deforestation.
PEOPLE
The population of Honduras is estimated to be about 8.3 million by 2012 (CIA World Factbook).  Majority of the population is mixed Amerindian and European (also called mestizo) – that is 90% of all Hondurans. The ethnic makeup of Honduras includes Amerindians from 7 indigenous groups, blacks or Afro-Hondurans, and whites (Europeans).
LANGUAGE
SPANISH is Honduras' official language amidst a sea of Amerindian dialects like LENCA, MISKITU, and GARIFUNA, spoken throughout the country. ENGLISH is spoken by Caribbean workers brought in to tend to fruit plantations and in major cities, but used significantly much less outside them. In some parts of Hondura, like in Utila, Spanish and English have hybridized into a pidgin language that is unintelligible at times to Spanish and English speakers.
RELIGION
Christianity and Roman Catholicism is attributed to Spanish colonization. Around 97% of the Hondurans are Catholic while the remaining 3% more or less are Protestants. Non-Christian religious groups are generally unheard of, if not significantly small.
ATTRACTIONS
With a tumultuous past of left wings and landslides and a still unclear future, Honduras as a tourist hotspot is yet to be seen. Though included in a roster of danger zones, Hondurans encourage the world to give their country a second look and see it as a peaceful righteous nation as the rather new monument of Christ of the Picacho represents, as it sits atop the mountain and across the capital Tegucigalpa. The Honduras of today is no longer a holiday at a danger zone.
Time spent in Honduras is best described as an "adventure of a lifetime" with what activities it has to offer from hiking in Pico Bonito, rediscovering pre-Columbian Los Naranjos Archaeological Park, fishing in Lago de Yojoa, scuba diving in the reefs of Bay Island, understanding history in the former capital Comayagua, and taking a break from it all in chillUtila. Inland and in the waters, Honduras will give anyone a unique thrill. And where land and water meet is where the people are, as in the beaches in Trujillo which are quite famous here too – for food and fun, all the same.
FOOD
Honduran gastronomy seems your standard Latin food, but if there's one thing any Honduran loathes is a generalization or comparison to Mexican food. A contrast is almost impossible with one too many common dishes in their cuisine such as tacos, enchiladas, and tamales. Trust, however, that these are nothing like in Mexico. Tacos in Honduras are meat-filled corn tortillas and deep fried while enchiladas are pan-fried and topped with ground beef, cheese, and red sauce. Let's not forget the delicious curiles (seafood) that abound all over restaurants and homes.
Baleadas are originally a Honduran fare and a definite must try which contains refried beans called frijolitos, cheese, and cream to which you can also add eggs, avocado, and meat. Plato tipico is the most famous lunch consisting of rice, fried beans, beef, and fried bananas (ortajaditas) at times served with salsa of tomatoes, onions, cilantro, green peppers, and a drizzle of lime juice called chimol. Hondurans also love their coffee as much as their bananas. The icing on the cake is service served with a warm Honduran smile.
***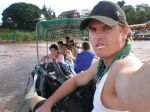 Josh Boorman
Editor-in-chief
Backpacking Addictz
Twitter: @backpackaddictz
Backpacking Addictz is a website set up by backpackers for the use of backpackers. On this site you will find a lot of very valuable backpacking information surrounding different destinations, countries and experiences from people's different backpacking adventures throughout the world.
Backpacking in Honduras
Backpacking Addictz looks at Backpacking in Honduras.