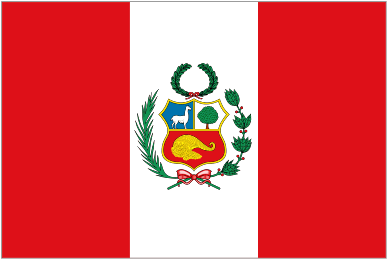 Population: 28 million (UN, 2005)
Capital: Lima
Area: 1.28 million sq km (496,225 sq miles)
Major languages: Spanish, Quechua, Aymara
Major religion: Christianity
Life expectancy: 67 years (men), 72 years (women) (UN)
Monetary unit: 1 nuevo sol = 100 centimos
Backpacking in Peru
Welcome to Peru – top South American destination for more than one reason. The arcane Nazca Lines have stirred up curiosity and story up in the Andes, but it's Peru's historical, natural, and social intricacies and varieties that snag a traveller right from under his or her nose and captivate them for good. No words uttered could describe the unflinching beauty of the Peruvians from the likes of beauty queens, actors, and everyday people you'll meet on the streets. Beauty could also be seen in its past undertakings, especially pertaining to the origin of its name, which reveals alot as is. "Peru" is derived from Birú, a 16th century ruler from the Bay of San Miguel in Panama.
Peru's illustriousness based on  pre-Columbian cultures and colonial architecture makes the solid landmass seem all to familiar. However, Peru's wealth is on the mysterious. So much more ancient sites, traditions, and experiences to discover. It is a fun and enigmatic country with a hook for people of all religions (Christians and indigenous), pastimes, and budgets. Like Peruvian saints, Saint Martin de Porres and Saint Rose of Lima, unravel and ravish Peru with a humble resources but without restraint in its dime-a-dozen, natural offerings.
GEOGRAPHY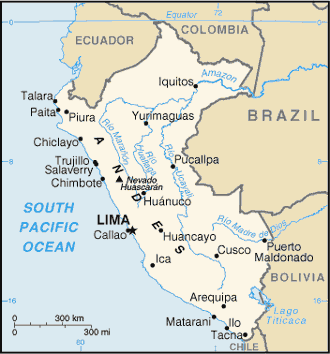 The Republic of Peru (10 00 S, 76 00 W) is a 1,285,216 km2 nation in western South America facing the South Pacific Ocean. It is bordered on the north by Ecuador and Colombia, east by Brazil, west by the Pacific Ocean, and south by Chile. Peru is characterized by a diversity in landforms: coastal plain on the west, high and mountainous Andes in the center, and low jungles on the Amazon Basin. The highest point is the Nevado Huascaran, 6,768 m above sea level. Peru shares control with Bolivia over Lago Titicaca, the world's highest navigable lake.
CLIMATE
Peru, unlike other equatorial countries, is not exclusively tropical in terms of climate. Peru as three climatic zones: arid coastal desert (west); tropical Amazon jungle (east); and temperate Andean highlands (central). There are two main seasons: wet and dry. On an average of seven years, the El Niño phenomenon, named so – Little Boy after Christ Child – because of its occurence on Christmas thereabouts, is felt in Peru through a manifestation of extreme weather of either heavy rains or drought. Peak tourist season is June to August when the Andean highlands are dry and cool – the ultimate time to trek on the Inca Trail to Machu Picchu.
Multiethnic Peru has surprisingly maintained a predominantly Amerindian demographic (mostly Quechua and Aymara) that constitutes about 45% of its estimated population. At a number of 29,549,517 (July 2012 est.), Peru is the fourth most populous South American country. Amerindians have long inhabited Peru for a few millennia, until the 16th century – the period of Spanish conquest – which led to a decrease of 5-9 million down to 600,000 people.
PEOPLE
The Spanish conquest led to a interracial mixing that resulted to its mestizo demographic of almost 37% of all Peruvians. Chinese and Black communities came to Peru due to the slave trade. There still remains 15 uncontacted indigenous tribes in Peru. Other ethnicities like Europeans and Japanese immigrated to Peru also.
LANGUAGE
SPANISH is the official language of Peru. As the primary language in Peru, Spanish also is the first language of about 84% of the population aged five and up. Indigenous language remains rich and diverse, that of the 104 listed Peruvian languages (12 extinct languages), more or less 100 are Amerindian languages, including QUECHUA, AYMARA, ASHANINKA, and plenty others. Immigrant languages include CHINESE, while ENGLISH is spoken mostly in touristy places and big cities, otherwise English is uncommon at all.
RELIGION
Spanish occupation instilled stern Christian faith in the Peruvians, and thus, 90% or so adheres to either Roman Catholicism, Evangelical, and other denominations. On the other hand, around 3% confessed to be non-religious.
ATTRACTIONS
Just a few countries in the world offer the kind of variety of life Peru does. Peru is but that must-see, must-do sort of place, such as its breathtaking World Heritage Site, the Inca city of Machu Picchu, aloft a mountain peak, northwest of Cusco. No more true has the adage the "it's the journey, not the destination" been more fitting.
The trek itself on the Inca Trail is one of the most famous mountain treks. But to spare quarrel, the Inca Trail and Machu Picchu are equally awe-inspiring, as is another famous site. Flying over the ancient Nazca Lines is in many people's Bucket List and other extreme rosters including "Places To See Before You Die" and the sorts.
Lima's colonial heritage featuring Moorish latticed wooden balconies in a rusting orange hue, loud and energetic main square - Plaza de Armas, and cathedrals and Government Palace filled with details and texture, is a past many would delight looking back to.
Further back in time are ancient marvels like the ruins of Chan Chan of the Chimus nearTrujillo, Kuelap of the Chachapoyas in north Peru, or around Lake Titicaca where ancient civilizations flourished. Be warned of the long bus rides to reach sites like these.
On the other hand, glam and modern Miraflores in Lima is to look forward to. Peru is a developing country – a land abounding of rags to riches stories, and as such, tourism is one of its major industries and source of economy.
Truth be told, Peru has more unimaginable diversity, color, and surprises than a bag of jellybeans, that none can simply Peru as "ruins, rivers, and mountains". For the "now" backpackers is Máncora in northern Peru and Huanchaco – a surfer and backpacker destination of choice for both party and waves.
Speaking of yummy jellybeans, In shopping precinct Larcomar, Peruvian cuisine, a standard offering as much as the next Peruvian turquoise accessory, fills the air with spices and flavorful aromas. What a uniquely diverse gift Peruvian cuisine is to the world! Peru's geographic and climatic diversity results to its high biodiversity of plant and animal species.
Ingredient-wise, we're looking at a country with produce made available year-round through this diversity. So, it's kinda nice to think a visitor can eat Mazamorra Morada (cooked purple maize and and sweet potato starch jelly).
Rice and meat are Peruvian staples but it depends on where in Peru you are. Potatoes are integral to Peruvian gastronomy, particularly in the sierra, and present in many dishes like Causa relleña (potato cakes with chicken), Pollo a la Brasa (chargrilled chicken) as a side, and many more.
In fact, there are about 2,000 kinds of potatoes here. And mixed with another the hot-and-spicy component of Peruvian cuisine, and you have Papas a la Huancaína, that is boiled sliced potatoes, hard-boiled egg/olives, on lettuce with spicy cheese sauce.
Tamales and ceviche are common noshes, however Salchipapas (sausage and chips) are savory, rich, hearty, and very Peruvian. What Peruvian cuisine is is a smash up of diverse cuisines that developed into a special and ever evolving "platos criollos" or creole dishes, and Lima is an example.
There's Spanish, Amerindian, African, Asian, Italian, and other European influences. Still expect some cuy (guinea pig) and dishes made from internal organs or spare parts like the anticucho - a spicy, marinated beef heart kabab, and cau-cau, a dish of cow stomach and potatoes in yellow sauce. Don't forget to make room for sweet and indulgent alfajores and suspiro a la limeña - some of the best desserts in Peru and the world!
***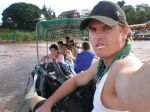 Josh Boorman
Editor-in-chief
Backpacking Addictz
Twitter: @backpackaddictz
Backpacking Addictz is a website set up by backpackers for the use of backpackers. On this site you will find a lot of very valuable backpacking information surrounding different destinations, countries and experiences from people's different backpacking adventures throughout the world.
Backpacking in Peru
Backpacking Addictz looks at Backpacking in Peru.