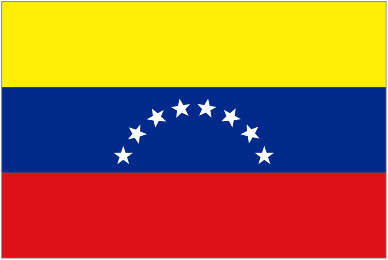 Population: 26.6 million (UN, 2005)
Capital: Caracas
Area: 881,050 sq km (340,561 sq miles)
Major languages: Spanish, indigenous languages
Major religion: Christianity
Life expectancy: 70 years (men), 76 years (women) (UN)
Monetary unit: 1 bolivar = 100 centimos
Backpacking in Venezuela
Venezuela, also the Bolivarian Republic of Venezuela, is the land of plenty as much as it is the land of poverty. With exceptional oil wealth, Venezuela ought to be South America's greatest success stories, and no doubt, ought to be as well one of the most touristed countries. On the other hand, the land named Veneziola by Amerigo Vespucci after the city of Venice (little Venice) is more hyped for its oil, politics, and beauty queens than as a consummate Latin America holiday destination.
Nonetheless, Venezuela is a land rich, still, with natural beauty where travellers lusting for new experiences can explore culture in idyllic colonial towns, kick it off in the jungles, or chill through snorkelling, diving, and plain tanning. The people are just breathtakingly beautiful, what with the the Miss Universe under their belt years in a row, for certain. Venezuela is undeniably a most sublime and  gorgeous off-the-beaten-track destination.
GEOGRAPHY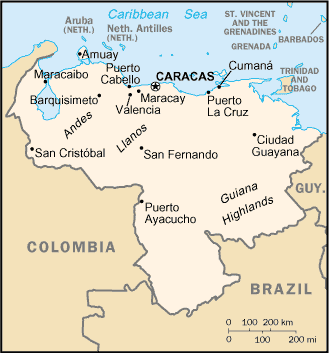 Venezuela (8 00 N, 66 00 W) in Central America is the 33rd largest country in the world with a total area of 912,050 km2. The country has a diverse landscape of highlands (southeast), lowlands (north west), and plains (central).  In Venezuela, you can find the Angel Falls, the world's highest waterfall. In spite of the presence of the Andes Mountains, much of Venezuela (90%) lies below 1,000 m. The highest point is the Pico Bolivar, 5,007m above sea level.
CLIMATE
The location of Venezuela in the tropics and its proximity to the Equator allows the country a warmtropical climate. Although in Venezuela, there is variety in the climate depending on altitude and region, the temperature range varies minimally throughout the year. About 90% of Venezuela lies below 1,000 m and thus experience temperatures between 21-29 °C, while the Andean range and coastal mountain regions have more moderate temperatures.
PEOPLE
With a population of 28,047,938 (July 2012 est.), Venezuela is the 45th nation in world population.  Venezuelans originate from a diversity of heritages, hence the mass are of mestizo or mixed ethnicities. To be nearly precise, about 70% of Venezuelans are mestizos of mixed Amerindian and European heritage.
LANGUAGE
Venezuela is linguistically diverse. Ethnologue of Venezuela recognizes 46 languages, although Venezuelans are mostly monolingual CASTILIAN. Six languages of Venezuela have become extinct without no known speakers. SPANISH remains the national language. The Constitution acknowledges over 30 indigenous languages, which mostly has few speakers left. Immigrant languages includeENGLISH, PORTUGUESE, ARABIC, GALICIAN, CHINESE, etc. A dialect of GERMAN (COLONIERA) is spoken in the German settlement of Colonia Tovar.
RELIGION
Venezuelans are predominantly a Christian country where an estimate of about 98% are Christians. In particular, about 96% of Venezuelans are nominally Roman Catholic. The remaining populace of Venezuela are either Protestant, of other religions, or just irreligious.
ATTRACTIONS
When one thinks of Venezuela, the dramatically stunning Angel Falls comes to mind almost instantly, at times more frequently than history-packed capital Caracas. A viciously serious political and economic front, a no-nonsense Hugo Chavez, and an even more dire pageant industry has Venezuela under false impressions with people around the world. Tropical beaches, rustic colonial towns, un-debased jungles, and a motley of landscapes make Venezuela your quintessential South American destination, plus more.
Along with it, adventure-filled nature explorations in majestic Mt. Roraima and its massive range of flora and fauna, or famed snow-capped Merida in the Andes and its sundry of activities for the traveller like hiking, trekking, white water rafting, or just wildlife spotting. UNESCO World Heritage Site Coro is an unsuspecting settlement frozen in time, as is Colonia Tovar - a slice of Germany that preserved old world traditions. Venezuela's refreshing sights and cool sounds is most apparent in the culture as when one watches a joropo performance all out with bright summery costumes and fast rhythms.
FOOD
Nothing epitomizes Venezuela quite well as cuisine does – variable in influences and flavourful. In fact, Venezuela takes the empanada and tamales (or hallaca) and made it their own. Nonetheless, Venezuelan cuisine is a world on its own with each region to their own distinctive speciality. The ingredients vary based on the region, for instance towards the coast and the Andean region where the former abounds in seafood whereas the latter, on cured meats.
Arepas is the Venezuelan champion dish of corn cake (wheat version in the Andean region), add a myriad of fillings of meat and cheese, like "reina pepiada", that is chicken salad with avocado, or "domino", black beans and white cheese. Pabellon is Venezuela's traditional lunch of black beans, rice, plantain, and meat, but cachapas are traditional for breakfast. Cachapas are corn pancakes with soft cheese inside, best consumed with a cut of pork.
Don't be a gringo and eat the Venezuelan way, not forgetting to compliment the cook for making "the best in all Venezuela" whatever they prepared for you. You may just be rewarded with delicious Venezuelan chocolate confections, which are arguably some of the best in the world.
***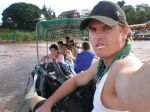 Josh Boorman
Editor-in-chief
Backpacking Addictz
Twitter: @backpackaddictz
Backpacking Addictz is a website set up by backpackers for the use of backpackers. On this site you will find a lot of very valuable backpacking information surrounding different destinations, countries and experiences from people's different backpacking adventures throughout the world.
Backpacking in Venezuela
Backpacking Addictz looks at Backpacking in Venezuela.