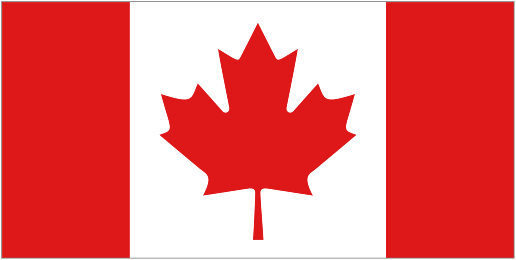 Population: 32 million (UN, 2005)
Capital: Ottawa
Area: 9.9 million sq km (3.8 million sq miles)
Major languages: English, French (both official)
Major religion: Christianity
Life expectancy: 77 years (men), 82 years (women) (UN)
Monetary unit: 1 Canadian dollar = 100 cents
Backpacking in Canada
From Mount Logan to St. John's, Canada displays astounding diversity and beauty that ought it to be one of the world's greatest destinations. But despite the second-World's-Largest-Country status, Canada could well perhaps be the World's Most Overlooked Tourist Destination. Similarly, it is the vastness and diversity that puts the country at a great disadvantage in tourism. In fact, you can travel for hours on end in Canada and you wouldn't have moved an inch on the map.
The name Canada traces back its origins to a St. Lawrence Iroquoian word for "settlement" - kanata, which has caught on legally to the present day. "A land of immigrants", Canada's people are extremely varied. And for these expatriate workers, Canada is a worthy destination not only for a short holiday, but for the long haul. A must-see backpacker destination, Canada offers unrelenting choices for a perfectly salubrious travel for food, culture, history, and modernity.
GEOGRAPHY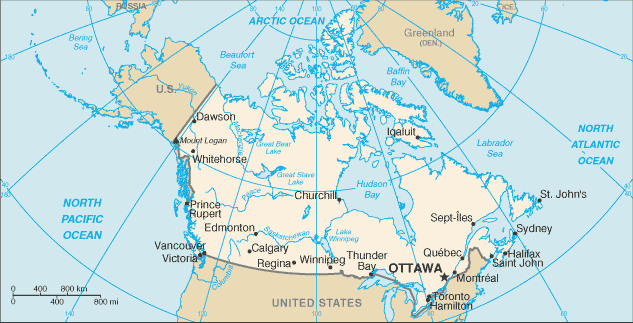 Canada (60 00 N, 95 00 W) in North America is the world's 2nd largest country with the total area of 9,984,670 km2. Canada is so huge that it has 202,080 km of coastline. The landscape of Canada is mostly plains with lowlands in the southeast and mountains in the west. The highest point of entire Canada is Mt. Logan, 5,959 m. Canada has a vast arctic terrain.
CLIMATE
Canada credits its land vastness to the variability of climates from temperate in the south, to arctic and subarctic in north. Many suppose that Canada experiences the effects of climate change firsthand in its wide arctic terrain such as temperature increase, shorter winters, dissolving ice roads, fish migration, and insect infestation.
Anytime is great to visit Canada, although it depends on where you want to go. Summers are generally pleasant, but summer varies per region. March thru May, as are September and October exhibit fair weather, and yet brings few visitors. You can also visit at fall season where the foliage blushes with hues of oranges and browns.
PEOPLE
The Canadian census tallies a population of 33,476,688. However, 2012 estimates point at a population that totals to 34,300,083. About 90% of the population is condensed within 160 km of the US border. The diversity of ethnicities in Canada is extremely variant. Majority of people are true blue Canadians with British isles origins, while some are mixed.
Others may have French, Scottish, German, Italian, and other European origins. Still, others descended from or are burgeoning Asians, African, Arab, etc. And only little remained of Amerindians, Inuits, and First Nations.
LANGUAGE
Canada has an astounding number of 86 spoken languages, all living – and that still exclude immigrant languages. The two official languages of Canada ENGLISH and FRENCH. Both languages are first languages, have equal status in the Parliament, federal courts, and all federal institutions, and official bilingualism is defined in the Canadian Charter of Rights. Alongside Canada's gargantuan ethnic diversity comes a rich pool of immigrant languages that include almost all the languages in the world, including FINNISH, TELUGU, and SOMALI.
RELIGION
Of the 70% of Canadians that identify as Christians, Catholics compose the biggest group. A huge Protestant demographic is predominantly of the United Church of Canada, followed by Anglicans, Baptists, Lutherans, and other denominations. Immigrants have brought Islam and Judaism, although a still huge percentage of Canada of about 16% declare no affiliation to any religion.
ATTRACTIONS
Vast and massive, Canada is a land of rich natural beauty and vibrant progressive cities, most of which are featured regularly on best places to live rosters like Vancouver and Ottawa. Canada is huge, all right, from the grizzlies, glaciers, and giant sequoias to the general Canadian masses. To date, Canada is 14th in the world's most obese countries. Supersize or skinny, a visitor nonetheless would have a blast exploring the Niagara Falls and the Northern Lights.
Canada is cutting edge while endowed with French panache like the romantic Montreal and charmingQuebec with its old 17th century structures, which are worlds away from skyscrapers and stress. What takes more of the tension are the Prince Edward Islands beaches. A UNESCO World Heritage Site among others in Canada include the Kluane National Park and Reserve in the Yukon, although small, unsuspecting, and un-touristy spots like Lynn Canyon are also beautiful and great to see. Canada is the destination for luxe travels in wine country or off-the-beaten camping excursions.
FOOD
Most importantly, Canada is the go-to for fabulous, not-for-the-faint-of-heart cuisine. Poutine is iconic of Canada fare and is definitely one such health-ruinous dish in excess. French-Canadian cuisine has spread across the country and comprises of tourtière (meat pie), croquignoles (donuts cooked in shortening), ragoût de pattes (pig's feet stew), poutine included. Heavy stuff, indeed! Not fainthearted for health reasons, as it could possibly be responsible for making Canada a nation of big people.
Still, the culinary landscape is as vast and varied as the expanse of its actual surface including epicsteaks from the central plains, to bird-size portions of Oriental stir-fry in Vancouver or Toronto. There are all sorts of fresh seafood like mussels, salmon, and lobster, and game such as venison and caribou. If you're looking for "Canadian" grub, maple syrup can't get more Canadian, of course.
***
Backpacking in Canada
Backpacking Addictz looks at Backpacking in Canada.