Followed on foot or just my paranoia
My first Vietnamese meal
Exploring the Old Quarter
"King of Scotland" on HBO
Dinner time
Followed on foot or just my paranoia
Today I thought I would explore what the city of Hanoi has to offer. I pretty much wandered aimlessly until I found a really nice little café.
I have a feeling that I was being following by a Vietnamese local at one point since he kept walking about 30 metres behind for ages, he looked fairly suspicious and I was wandering aimlessly without much purpose. Once I caught on to this fellow, I crossed the road and sat down on a park bench and just stared at him. This approach seemed to have worked since he quickly disappeared. I am not too sure what he was doing or whether his intentions were devious but what ever the case I think it is important to always be weary of suspect people and conscious of what is going on around you.
My first Vietnamese meal
I sat down for some lunch at the café that I found and had a really nice beef and noodle stir fry meal with a large orange juice. The café was located just opposite one of the large lakes smack bang in the middle of Hanoi. This rather modern café had free Internet Wi-Fi so I was able to catch up on my emails and news back home with my iPhone.
Exploring the Old Quarter
After lunch I continued my aimless wandering so that I could take in the sights, sounds and general feel for what Hanoi is like as a city. I walked around a couple of the large lakes in the middle of Hanoi which might I say were absolutely filthy and filled with all sorts of rubbish and pollution. Certainly not fit for any kind of swimming training.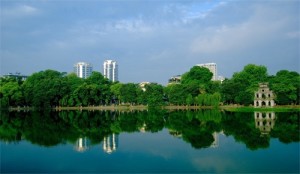 Its quite funny in Hanoi as you literally cannot walk 50 metres without being yelled at by some local seeing if I want a 'moto ride'. No I don't want a fucking moto ride cant you see that my legs are working fine?
I guess after a while you get fed up with the same question being asked of you but instead of being rude and telling them off you learn to just ignore them and keeping walking.
"King of Scotland" on HBO
The day started getting on and I returned back to the guesthouse and chilled out for a couple of hours and watched a movie called "The King of Scotland". This was showing on HBO and was such a good movie about the horrific atrocities that took place under the rule of Idi Amin in the African nation of Uganda. Great movie and especially for keen travellers, kind of makes you want to backpack through.
Dinner Time
My stomach started talking to me so I thought that I should get ready and go find a decent place to have some dinner. I came across a clean looking place called Festo, it was an Italian place and I felt like something different from an Asian dish for a change. I ordered a very nice gnocchi dish and a drink ended up costing me $10 USD which was very expensive in comparison to what I was used to paying for a meal.
Went back to the guesthouse and relaxed whilst watching some more HBO movies, for whatever reason all the shops, bars and restaurants tend to close up at about 11:30pm so there wasn't much chance to do some night raging.
***
Josh Boorman
Editor-in-chief
Backpacking Addictz
Twitter: @backpackaddictz