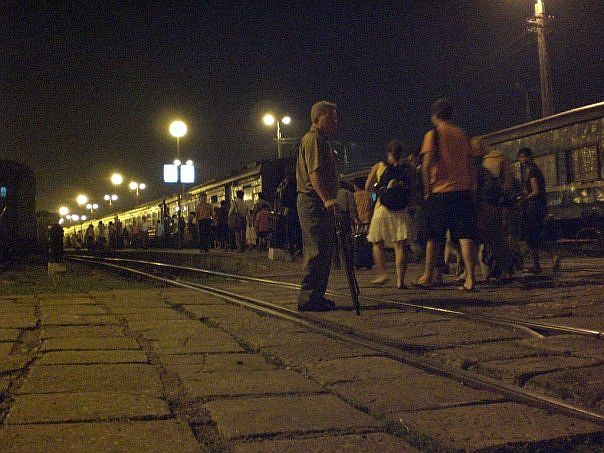 Train  from Hanoi to Hue

Arriving in Hue

Partying at the DMZ Bar
I basically drifted around the Old Quarter of Hanoi, got myself a fantastic spaghetti bolognaise and an icy cold Heineken from a trendy little French restaurant. It was one of the best meals I have had in days.
Train  from Hanoi to Hue
I got to the the main Hanoi train station at around 9pm and sat and watched the station become progressively busier and busier. I waited around until about 11pm when we were able to begin boarding the train. The train was stationed at the same level as the platform to which everyone was standing on. This reminded me of old war movies and other old fashion stories showing passengers climbing up onto the train from ground level. The platform was an old fashion cobble stone surface, it was a really surreal and unique experience.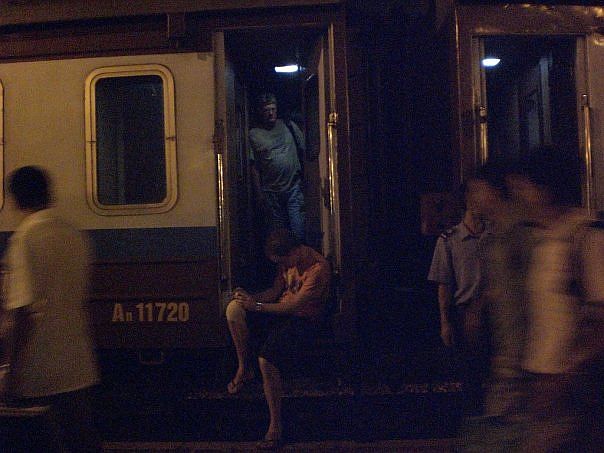 Unfortunately the inside of the train wasn't quite as unique. In fact the train was very basic, awfully uncomfortable and so crowded, I began to wonder what I was getting myself into for such a long journey.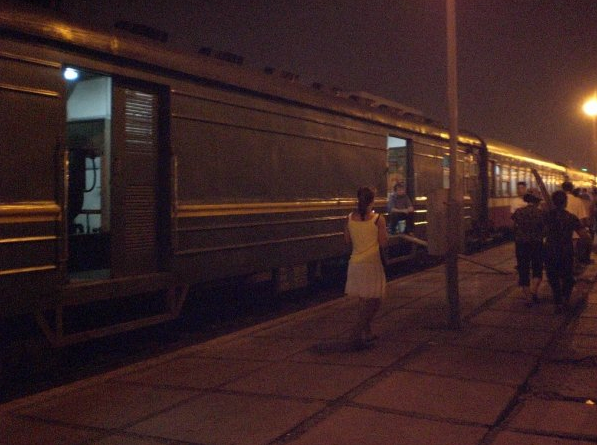 The seat I was situated in was very cramped and it definitely took me a while to get settled, well as settled as could be I guess. I was kind of prepared as I swallowed 3 temazapan sleeping tablets, now I know that you have to be careful taking sleeping tablets when traveling due to the likes of Deep Vein Thrombosis (DVT) however I was that uncomfortable and cramped that all I could think about was putting myself into a self induced sleep.
I woke up at 4am just as the sun was coming up, I fell back to sleep and then woke again at 6am. Until around 10pm I pretty much just fell in and out of sleep. From around 10am to just after 2pm when we arrived at Hue I was almost losing my mind since I really needed to stand up, stretch out and get the blood flowing through my body.
Arriving in Hue
So we arrived into Hue about 2pm, that's right a 15 hour train ride which was most unpleasant. I highly recommend to anyone deciding to take the train out of Hanoi would be to pm,ay the extra small amount to book a lay down bed carriage in the train. I was so jealous as I would have done anything for a lay down bed.
I got settled into Hue and booked into the DMZ (Demilitarized Zone) Hotel which was well organized and smack bang in the centre of town. I went downstairs to the DMZ bar where I ordered a pizza and a fresh beer. Whilst I was sitting at the DMZ a little Vietnamese girl came up to me crying and asking me for some money, I felt sorry for the unwashed and unkept little girl who looked like she was about 4 or 5 years old. I immediately pulled out $1USD and gave it to her. My pizza and beer came and about half way through my meal the same little girl came up to me again and asked for some more money, she even began to cry again. After continually asking her is she was ok and needed help she simply demanded some money. I pretty much caught on to the fact that I was being targeted by the locals as an easy cash cow and denied her more money, so she simply moved onto the next table asking other foreigners for money.
The little girl got some more money and I watch her take the money around the corner and give it straight to her Mother who was standing out the front of a corner store. Within 5-10 minutes she was back again asking for more money. I couldnt believe it but this little girls Mother was telling her to go and ask for money and start crying to make people feel sorry for her especially when the Mother appeared to be the owner of a shop and not in desperate need of money or food or clothes. It was funny how still little things were a shock to the system even though I have spent a few weeks in South East Asia already.
I went for a walk around town to check out the local scene, it was pretty basic, less populated than Hanoi and not that much to see. I didnt feel up to going out to see all the old Vietnam War bunkers so I returned back to the DMZ hotel for an afternoon snooze.
Partying at the DMZ Bar
I woke up and the sun had gone down so it was time to drop on in downstairs to the infamous DMZ bar. Funnily enough I bumped into some other backpackers that I had met on the Halong Bay Junk cruise. They were 2 Irish girls named Shona and Hayley, great girls always down for a laugh and a drink. The DMZ bar is well known for backpackers and travellers since all of the walls inside the bar have short messages and writings scrawled all over the place. It is really cool because the owners of the bar encourage travellers to write a message on the walls to let everyone know where they are from and how their travel experience is going.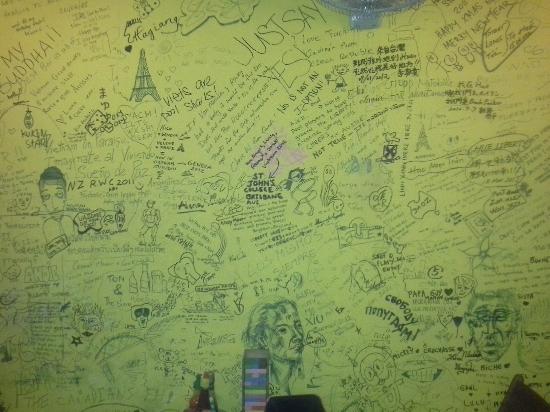 We had a fair few drinks and played games of pool with the locals and danced around like idiots – it was a really relaxed and fun night. The beautiful thing was that I was able to simply stagger upstairs in my drunken state and pass out in bed. PERFECT.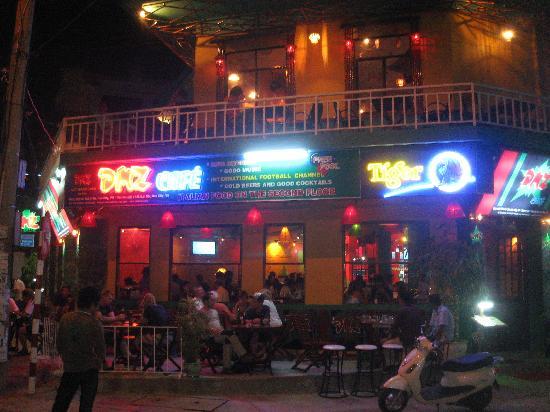 Josh Boorman
Editor-in-chief
Backpacking Addictz
Twitter: @backpackaddictz