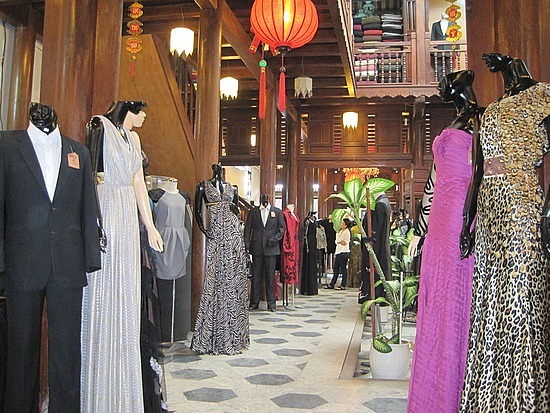 What to look for?

Yaly

Adong Silk

Impressions

My Pick & Advice
What to look for?
I was quite overwhelmed by the vast amount of amount of tailor shops that were in Hoi An. There are literally hundreds of tailors all vying to custom make some piece of clothing especially for you at their "special price".
After doing some research it became apparent that many of these tailor shops are simply fronts for back alley local tailors who work hard and only earn a fraction of the sale price. Many of these back alley tailors can be compared to sweat shop workers and their skills as professional tailors is quite limited and lacking in quality. The conditions in which they work in and remuneration for their services is quite sad. However, this is the reality of life in Hoi An and many other Asian countries around the world.
In pursuit of a quality tailor who can whip up pretty much any type of clothing you could think of you really need to look beyond the shop front and find out which particular store uses the best tailor in town. As with most things you generally get what you pay for and this is generally the case when shopping for a quality suit or item of clothing in Hoi An. But you must understand that there is no point in paying a high price for a quality material when your clothes are going to be tailored by an unskilled tailor.
Yaly
After much looking around and research through Internet forums I decided to look for a larger well known store called "Yaly" which I believe actually has two stores in Hoi An. I visit their larger store which was quite intimidating at first because there were so many people inside running around in all directions seeming to have their own agenda.
I needed a work suit for my shitty lawyer day job so I had the choice of choosing between 3 different qualities of fabric. I decided to choose one of the better quality of fabric which was English cashmere and I was quoted a price of $238.00. I had to go back for two different fittings where I found the staff very friendly and actually noticed that the Yaly tailors work within the shop premises on the second level. This became evident when I came back to the shop for fittings and the tailor personally came down to gauge how the suit fitted me and what improvements and amendments needed to be made. I also decided to get some copies of my "Dickies" skateboard shorts made up out of hard cotton material.
Overall I was extremely impressed with the service and above all the quality of the clothing tailored by the good people at Yaly.
Adong Silk
In addition to getting my suit and shorts tailored at Yaly I decided to get some business work shirts made up by another fairly large tailor shop called Adong Silk. I got 3 business shirts made up and they cost me approximately $20.00 each and they were a perfect fit. I also decided to get a very cheap white suit made up so that I could wear it to the horse races back home in Australia. I paid a very cheap $90.00 for the white suit, it was obviously not as good quality as the Yaly suit but like most things you get what you pay for and for $90.00 I was more than happy. I was very happy with the service at Adong Silk and I think there work shirts are just fantastic and I really wish I had of bought many more. Also, you can pick up some very cheap tie and cuff link sets for around $5.00 each. They are quite cheaply made but for that price who's arguing.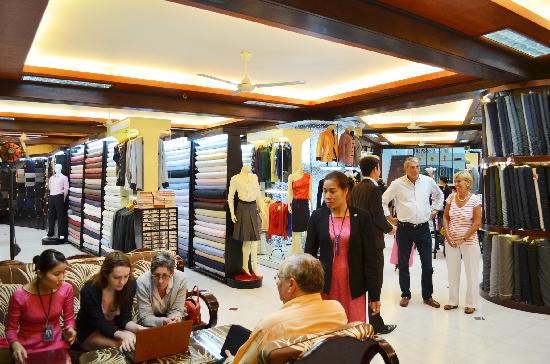 Impressions
The final shop that I bought some tailored clothes from was Impressions which actually have a number of shop locations in Hoi An. I was a little wary of Impressions because I got the vibe that they were all show and no go, in other words they looked reputable and quite flashy however I was a little wary because they had very young workers in their shops trying hard to sway me in to sell me something. As with most things if you have a quality product or service then the word gets around pretty quickly and it will sell itself.
However, some other backpacking friends of mine Clarke, Toby and Jenny (from Sydney, Australia) who I had randomly met in Hanoi and then met up with in Hoi An were getting a number of clothing items tailored from Impressions. Clarke was getting a very cool hared cotton jacket made up in the latest style and it did look very good. This is the reason that I decided to use Impressions and I too got a smart casual jacket made up. After one fitting the jacket was ready and to be quite honest I was very happy with the end result.
I am aware that Impressions does have a bad reputation, especially if you do a Google search for them on the internet – it appears as though some people have had bad experiences. All I can tell you is that my experience was good, but in saying that at the end of the day I only got a casual jacket made up and not a business or dress suit.
My Pick & Advice
If you want quality then my number one pick is Yaly, they have tailors on site who are working in the shop upstair as opposed to other shops that will send your measurements away to some back alley to have made up. The tailor will actually come downstairs at Yaly at your fittings and see for his or her own eyes how the clothes look on the body.
Again I had no problems with Adong Silk they were very professional with very good value and a great end product.
Good luck in your search for a good quality tailor in Hoi An but please remember that it is well worth doing your homework since I have heard of so many bad experiences in dealing with some Hoi An tailors.
Josh Boorman
Editor-in-chief
Backpacking Addictz
Twitter: @backpackaddictz