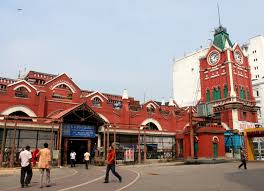 Previously called Calcutta during the days of Britain's colonization of India, Kolkata is one of the largest cities in India and has a deep and rich history plus a number of worthwhile sites and shows for visitors to enjoy. The city has been the making of many historical figures such as Nobel Laureate, writer, and poet Rabindranath Tagore and Satyajit Ray who wrote and directed numerous films. The city is also said to be the cultural hub of India with numerous theatre performances, musical programs, art galleries and a variety of other daily cultural events.
If architecture fascinates you, the northern/north central area of the city offers a number of well-preserved British Era style buildings. You can get to this area from the subway. Getting off at Central station will place you right in the center of preserved British Kolkata. You can also plan a walk from Esplanade metro station toward Central station. By going along this route you will go past New Market which is the largest indoor market in the city. New Market is the place to buy virtually anything you might possibly desire from clothes to electronics to puppies.
It is easy to lose yourself at New Market as the aisle-ways throughout the place lead all over the place, forcing you to constantly guess whether you should turn left or right, go straight, or go back where you came from. Also, the coolies, the local word for porters, could drive you crazy if you don't remain calm. The coolies will follow you throughout the market, constantly trying to lead the way and help carry your items. If you want their help you can simply offer a small tip when you finish shopping. If don't want their help, tell them so and go about your shopping. Be prepared though, they will still follow your every step whether you want their help or not.
If the buzz of New Market sounds is too much for your tastes consider visiting some of Kolkata's many art galleries. You can find a vast assortment of art showrooms and exhibitions in this city including a number of small galleries featuring anything from photography to painting. Take a look at Seagull Gallery on Mukherjee Road. The gallery is very close to Kalighat metro at the intersection of S.P. Mukherjee Road and Rash Behari Avenue. The gallery is small but offers a good variety of shows and public viewings.
If live performances are something you are more interested in, then be sure to visit Rabindra Sadan at Rabindra Sadan metro station. There are always new programs going on here from traditional dancing to music performances to plays.
Kolkata is India's capital of culture. There is always something to going on or some place to visit that will inspire and entertain any variety of travelers.
About the author Lyndsey writes for Briefcases Direct, a website that offers luxury briefcases direct from the manufacturer. Lyndsey is currently living in Kolkata, India and studying Bengali language in her free time.
***
Josh Boorman
Editor-in-chief
Backpacking Addictz
admin@backpackingaddictz.com
Facebook.com/backpackaddictz
Twitter: @backpackaddictz