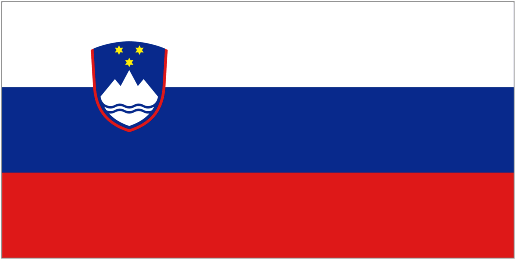 SLOVENIA
Republic of Slovenia leaves the world to impress on it as with the rest of its Eastern European neighbours – troubled, behind-the-times, and deprived. A closer look on the landscape and the Alps evoke a familiarity shared with Switzerland, Austria, and Austria, rather than Croatia or Yugoslavia. But without having to prove a single bit, Slovenia is distinctive and diverse, and, more than anything, prosperous. Being here, one would reckon being in one of Europe's major cities. However, this is no Netherlands, Germany, or France. The flair evoked is solely Slovenian. Thus, Slovenia is a growing tourist destination in Europe that is nothing short of sophistication, refinement, and energy. With what very little area it has, Slovenia has remarkably serious diversity than many countries double its size can ever brag about. After all, Slovenia knows what it truly means to be the heart of Europe.
GEOGRAPHY
Slovenia (46 07 N, 14 49 E) in Central Europe is a petite nation with an area of 20,273 km2. Despite its trivial proportions, nothing is trivial about its greenery with still 10,124 km2 covered in forests, which is 63.3% of the entire Slovenia. Also, this tiny nation possesses exceptional geographical diversity owing to its location right at the seams of 4 major geographic regions: the Alps, the Mediterranean, the Pannonian Plain, and the Dinarides. Slovenia has mountains in the north, hills in the east, wide plateaus in the southeast, a brusque coastal strip in the southwest, and Karst limestone region of caves in the south-southwest. Slovenian peaks in the north rise up to 2,500 m and higher. Still, the highest peak of Slovenia is the Triglay, 2,864 m above sea level.
CLIMATE
For the most part, Slovenia is temperate with 4 distinct seasons, though having regional variations based on topography. To the northwest, the climate is alpine (with Atlantic influences); in the alpine valleys, the climate is moderate; while towards the coast, Mediterranean climate is experienced. Snow is frequent during winter in Slovenia, whereas strong winds are not so. Winds are common only in the Littoral region where the wind burja can gain velocity of 45 m/s in gusts.
PEOPLE
Slovenia's population counts 2,000,092 Slovenians with 65%-79% living in urban areas. According to Slovenia's latest census by far, in 2002 the majority of citizens of Slovenia were ethnic Slovene (83%), and at least 13% were immigrants from parts of Former Yugoslavia, thus the Serb, Croat, Macedonian, Albanian, Bosniak, and also Hungarian population. Slovenia shelters other minorities including Italians and Roma. Slovenia is infamously regarded as having one of the lowest-ranked European countries in population density. Perhaps, the fact that it is amongst the highest-ranked Europeans in suicide rates contributes to this somehow.
LANGUAGE
If anything, SLOVENE, the official language of Slovenia spoken by about 92% of the population, is infinitely full of life and energy, despite the previous lethargic statistics. Slovene is a member of the South Slavic group of languages and is the most diverse Slavic language as concerns dialect. ITALIAN and HUNGARIAN are official languages in ethnically-mixed regions along the Italian and Hungarian borders respectively. Some other langue spoken here include a variation of SERBO-CROATIAN, in general by immigrants from Former Yugoslav republics, GERMAN, which used to be the prevalent minority language prior to WWII, SPANISH, and FRENCH which are foreign languages taught in school. Fortunately, roughly 60% of Slovenians can speak ENGLISH which is widely used in business and academics.
RELIGION
Slovenes are Christians by tradition, predominantly Roman Catholic. These days, Slovenia has become a largely secularized society. Like other nations in Europe, religiosity is dwindling in Roman Catholics for instance, with an annual drop of more than 1% of the demographic. Islam is the 2nd largest religious denomination in Slovenia with 2.4% of the population affiliated with it. Orthodox Christianity, Judaism, and other Christian religions are also practised by the people.
ATTRACTIONS
Slovenia is ever bit a standout especially with its Former Yugoslav crowd with which it is typically associated with. This "piece of heaven on earth" looks like it has more in common with Italy and Austria, and rightly so, as it possesses an adjacent Alpine mountain region. Far beyond that, the landscape maintains a green thick forest cover peppered with glacial lakes, thermal springs, and villas that look out to a wealth of shifting panoramas – a slice of the Adriatic, a lingering douse of views of the alpine mounts, and a sprinkling of rivers, mountains, and valleys. Despite the small size, the beauty of Slovenia is exponential. Whatever the weather, every season sure has its charisma.
The capital, Ljubljana is vital and vibrant, brought to life with a hodgepodge of elements. It is young in spirit while reminiscent of its glorious past. And just like the rest of Slovenia, the air is crisp and clean with the scent of nature and all things nice. But it cannot be overlooked that the white, snowy slopes of Bovec Pohorje, Bohinj, Cerkno, Rogla, Vogel, and others have outrun the green beauty in Slovenia's race to the tourist celebrity, as the country becomes a major ski destination in Europe. Still, the Julian and Kamnik Alps are picture perfect for the nature aspect, including the Triglav National Park, a favourite for hikers and climbers alike. Surely, the Slovenes are a huge contributor to the overall fun to experience here, but so are parachuting, paragliding, and ballooning, which like the socializing, must not be missed at all.
Talk about not missing, if anything, that should be the Slovenian cuisine. What is it? Sounds like a scientific name that phrase, does it not? But like a science fact, Slovenian cuisine is leaking with wonder, fascination, and amazing sensations. To be honest, there's not one way of talking about the cuisine of a nation so diverse. If one must know, there are 40 regional cuisines, more than 70 dumpling – or struklji -dishes, 100 soups, and a lot more meat dishes. Slovenia, regardless of how green it is, is just no place for a vegetarian. People from Austria come all the way to Slovenia for the dishes that are typically heavy in meat. With influences from Subalpine, Hungarian, Balkan, Mediterranean, and especially Italian cuisines, one will find fave and familiar dishes done as good or even better, like the pizza.
FOOD
With such spectrum of gastronomic inspiration, the title "Europe in Miniature" is more than fitting.  Expect a 3-course meal, with meat as standard main including cutlets or zrezek, sausage or klobasa (i.e. Kranjska klobasa – most popular sausage) and goulash. Meat dishes with potatoes are hearty and delicious, like jota which is a dish with beans, sauerkraut, potatoes, spare ribs, bacon, and a rich flavour of garlic. There are plenty of recipes for poultry such as chicken, duck, turkey, goose, etc. as well as seafood. For more familiar tastes, pasta is abundant everywhere. Slovenia is meat paradise as it is dessert paradise as well. Potica is a heavenly cake with an assortment of fillings like nuts, cream, honey, raisins, & cinnamon and is luscious bar none. Apple strudel is an easy favourite while prekmurska gibanica is more Slovene but equally delectable.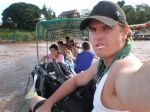 Josh Boorman
Editor-in-chief
Backpacking Addictz
Twitter: @backpackaddictz
Backpacking Addictz is a website set up by backpackers for the use of backpackers. On this site you will find a lot of very valuable backpacking information surrounding different destinations and countries from around the world. Also very helpful backpacking tips and travel advice on planning a budget travel and backpacking adventure. You will also find an enthusiastic and insightful backpacking blog which is regularly updated with new posts and article.
Backpacking Addictz Travel eGuides are a fantastic, cheap and easy way to get hold of a vast amount of backpacking information prior to setting off on your backpacking adventure.