The Delights of Nha Trang by the Beach: What a way to cure a hangover that with some fresh juices and some breakfast beach side in Nha Trang. Enjoying the delights of Nha Trang, random catchups on the South East Asian backpacking trail & getting ready to head to Saigon.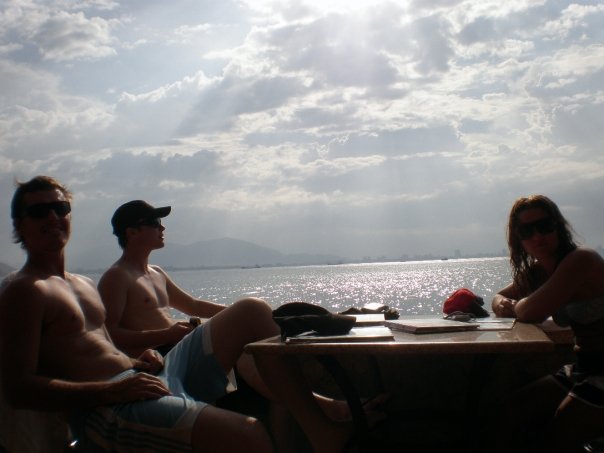 Hangover Food & Sharing Party Stories
Yes, yes the night before was a blast at the Sailing Club down on the beach. Catching up with the Aussie Connection and sharing party stories from the night before was an absolute crack up.
Greasy food and fruit juices were the order of the morning as we were all nursing pounding headaches caused by all the potent cocktails and local beers that we spent the night drinking.
Once we got some food into our stomachs the conversation started to flow a bit better and we ended up trading party stories from the night before.
Don't Fight The Vietnamese Police – Police – 1 / English Backpacker – 0
One of the guys mentioned that he got chatting to some English lads last night and they had said that one of their friends was apparently involved in a verbal argument with some other girl. The police ended up coming along to break up the argument and see what was going on. The English fellow was extremely drunk, intoxicated and fired up. When the police took up with him they tried to talk to him but he then, stupidly, became angry and aggressive toward the police.
Now I have heard that you should basically NOT FUCK with the LOCAL POLICE in Vietnam and as this young drunk English Backpacker found out they do not take nicely to being treated like shit from tourists.
On this occasion the English Backpacker allegedly tried to fight the police and tried to punch one of them in the head. These Vietnamese police are generally not large in stature but they certainly no how to dish out the punishment. A number of police then restrained this backpacker, held him down and punched out all of his teeth, the police then took his camera, wallet and other personal items, then drove this guy to the local hospital and left him there.
I can honestly say that in all my travels I have never even been close to being in a fight. You really have to keep your wits about you when traveling in a foreign countries. The last thing you want to do is take on the police or locals because you are basically visiting their territory and the locals can hand out harsh street punishment compared to what may happen back in your own country.
I must say I do feel sorry for the young English backpacker who had the living shit beaten out of him but at the end of the day you really need to use your head and not take on the locals. Why be aggressive? If your backpacking and drinking then you are better off just having a bit of fun rather than wanting to fight people.
Save the fights for your own backyard because picking a fight with the local Vietnamese police is a fight that you are not going to win.
Major lesson noted!
Beach Dancing, Euro DJs & Fire Lanterns
The Sailing Club was on fire last night…literally. There were a heap of people down on the beach in front of the club setting off fire lanterns which provided for quite an amazing sight as we were carving up the dance floor in the sand listening to some electro beats from the Euro DJ up on the wheelz of steel. The temperature was hot, the cocktails & beers were chilled.
What a great night.
Organising trip South to Ho Chi Min City (AKA Saigon)
After reminiscing on last nights shenanigans it was time to pull myself together and start planning to get back on the backpacking trail. Thats rights, after a couple of awesome days in Nha Trang its time to move on and head to Ho Chi Min City or as I prefer to call it by its traditional name, Saigon.
After breakfast I immediately went and booked an overnight bus to Saigon for a grand total of $10 USD. The great thing is that this $10USD would cover my accommodation for the night and also get me down to Saigon – what a bargain.
I packed up my backpack, went a bought a couple of toiletries and travel essential then headed back down to the beautiful white sandy beaches to get some more sun and have a few more beers for the rest of the afternoon.
I grabbed my counterfeit book that I recently purchased off a young girl selling who was selling a raft of counterfeit bestsellers. My latest book – Mr Nice by Howard Marks which is a great read all about his Marijuana smuggling adventures in the 1960's and 1970's.
I paid the usual 25,000VDN for a beach deck chair, a bottle of beer and I was in heaven.
After a few hours of sun, a number of chapters of my book and beers knocked off I could really feel my skin starting to burn. I left the beach knowing that my sun burn wasn't going to be pretty. I went back to the hotel to shower, change, freshen up and start getting prepped for my long overnight bus ride ahead.
After making sure all my belonging were all packed up and ready to go the sun started going down and I went across the road from the guesthouse I was staying at to get a bite to eat. I grabbed a table and next thing I heard was "hey Josh", I turned around and it was 3 Aussies girls that I had met in Hanoi, the ones that I met when we broke into the Marriott Hotel and went midnight swimming in the resort pool.
They invited me over to their table and enjoyed dinner and drinks together. Another funny random meet up on the backpacking trail of South East Asia – gotta love it.
My skin was getting more and more pink from the sunburn as the time went on. I began to look radioactive and all the girls were saying how much pain I was going to be in. I had to leave dinner a little early to get my stuff and make the overnight bus to Saigon, I said my goodbyes and promised to keep in touch via Facebook.
I was in one sense sad to leave Nha Trang but my excitement for Saigon was through the roof, I couldn't wait to check out this huge South East Asian Metropolis.
As soon as I got on the overnight bus I met an older fellow from Los Angeles called Chad. He seemed pretty cool and we ended up chatting about life and backpacking for a few hours. Chad was probably in his late 40's, divorced and dabbled in real estate but says that he loves just taking a month or 2 off each year to travel to developing countries where the price of living is cheap but the culture is rich.
Towards midnight I needed to get some sleep so I gobbled up 3 tamazipans and off to sleep zzzzzzzzzzzzzz 🙂
Stay tuned for what we got up to when we got into Saigon….