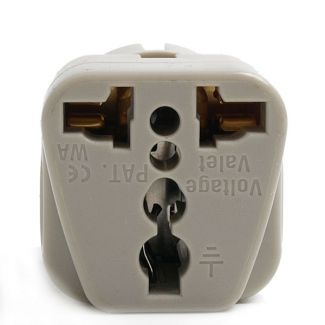 Travel Tips to Europe – Don't Blow the Fuse! Cold, dark, lonely night…I was watching Leap Year starring Amy Adams. Scenario was she landed on a small town in Ireland on her way to Dublin. She plugs in her Blackberry and wipes out the electricity for an entire town. This is a typical cliché in a cornucopia of Hollywood movies shot in Europe.
Americans are made to look too obnoxious, too ignorant by representation. But, when the standard U.S. household runs on 120v and the rest of the world at 240v, everything is just a notch more complicated as an American and a tourist. And while this could be one of the worst movies, this reminiscent scene can be an actual casualty (and it won't be as funny).
I, myself, have had the worst experience with American appliances and 240 v sockets. And for our young wanderlusts, it's not merely a difference between the style and number of prongs. So American friends, voltage-proof your travel if you wish to use your appliances during your travel to Europe. There's only so much you can do. Here's how.
DON'Ts
1. Don't just plug in your devices anywhere in the world without knowing what voltage they run on and what the input voltage is.
2.  Don't trouble bringing devices that could already be in the hotel (i.e. hairdryers). Toss that plug-in electric clock as well (if that still exists) because they won't be as precise, running at only 5/6 of designed speed since this is determined by electric frequency.
DO's
1. Do opt for battery-operated electronics like razors and alarm clocks. But if you can't help it…
2. Do mark your electronics their voltage right at the base of the plug with a label or masking tape with a) their voltage, or b) WARNING! Do not plug in 220v!
3. Do bring TRANSFORMERS and not converters. Transformers will take up some luggage space and some more elbow grease. And while converters seem more portable, they are not as efficient and will, in fact, damage your appliances slowly. Converters are potentially dangerous. A 110 – 250 v surge protector is also a good idea.
At many times, it is common to find better hotels with both 110 and 220 volts for your bathroom shaver outlets.  Definitely, DO DO check your room for outlets. This should be the case for 4 or 5-star hotels in many cities in the world. So, before you blow that little Irish town to kingdom come, voltage-proof your travel.
 ***
Travel Tips to Europe – Don't Blow the Fuse!  by Josh Boorman & Herika Manaligod:
Some very prudent and interesting tips in this blog post – Travel Tips to Europe – Don't Blow the Fuse let us know if it was helpful or informative by leaving some comments below.