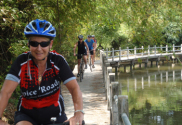 If you want to break away from the smelly and grimy city streets of Bangkok and get a feel for how many of the local Thais live then perhaps a mountain bike trip around the outskirts of Bangkok is for you?
If like me you're one of those people who love going on holidays, but cannot abide the whole flying experience, then this feature will be your new best friend.
Travel agents reveal the dark secrets of the business including charging you extra to fund their own lavish holidays and gifts as well as taking advantage of those in grief.