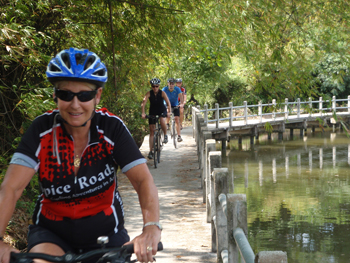 If you want to break away from the smelly and grimy city streets of Bangkok and get a feel for how many of the local Thais live then perhaps a mountain bike trip around the outskirts of Bangkok is for you.
My brother and I, are not all that big a fans of organised tours – however, Spice Roads really provided for a fun filled day mountain biking around Minburi.
A Spice Roads van picked us up from our Hotel at 7:30am just after we had a big breakfast to keep us going for the morning. It transported us out to Kamalulislam Mosque which represents the local Thai Muslim community. Our guide for the day was a little Thai fellow called Budhi, a very friendly guy.
The van driver would follow us along all of the main and open roads, however when we rode through markets, around canals and small villages the van driver would just meet up with us at a major checkpoint. This gave us some sense of security should we have an accident or puncture a tyre or something – I guess it was nice to know that a vehicle was on hand should something go wrong in the countryside of Bangkok.
The people here are direct descendants of the Thai southern Thai Muslims invited by King Rama III around two centuries ago to defend Bankgkok from enemies seeking to infiltrate the capital using the Saen Saeb canel.
We began our 40 km bike ride along the canals where we were faced with the challenge of riding along a 1 meter wide footpath surrounded either side by the murky waters of the Thai canals. Staying on the footpath proved even more challenging  whilst dodging branches and various over hanging trees.
The ride was certainly not of a strenuous nature but rather a pleasant ride which allows you to take in the scenery and the local culture. You will have the chance to see how the women of this area work together for the good of the community, glimpse up close the harmonious lifestyles of Thai families as you cycle along the canal.
As we travelled along the canals it was quite incredible to see all the fish farms along the way – hundreds of massive cat fish were coming up to the surface of the water and I think they were either getting some air or they thought that there was food to eat since the weather was spitting large rain drops onto the surface – whatever the cause it was an amazing sight.
As we continued we past many more fish farms, working rice mills, traditional Thai wooden houses and an old medicine shop.
Our guide told us that it was only a few decades ago that the Bangkok market town was set in the midst of a densely jungled tropical river delta and people traveled by sampans or river boats along an intricate network of canals. Life revolved around the waterways and people built their houses beside the klongs, which served as roads, gardens and bathtubs.
Although Bangkok is now a huge sprawling metropolis, it is only takes a short drive and a little investigation to discover the old Thai way of life and a land of gentle river boats, laughing children, rice fields and green tropical landscapes and temple after temple! Our bike riding trip was the perfect way to emerse ourselves in this experience.
Our bike ride took us to the extremely bizarre temple of Phurt Udom Pol, which amongst other things has a disused helicopter and very colourful stuccos. These temples is possibly the strangest thing I have come accross – there are huge statues and stuccos which represent Heavenly symbols and characters, however there is an underground section which is meant to represent Hell. Oh my goodness, wasnt this a spun out eye opener – it was like a filthy dingy dungeon full of statues and paper-mache characters stabbing, eating and indiscriminately killing each other. It was like the horror train at the local circus. Then on the way out of the underground dungeon there was a life size statue of a Teenage Mutant Ninja Turtle – what a spin out.
My brother and I both agreed that we had seen it all now!!
We rode along a small canal to the old market town of Nong, where we stop to enjoy a delicious Thai lunch Chok at a Buddhist temple.
In the afternoon we took in some wide open roads to get some killometres under our belt. We came accross some gigantic jungle bats and also a giant fallen tree which was blocking the entire road so we literally had to pick our bikes up and climb over the tree since there was dense jungle on one side and a river on the other – all part of the fun though.
Through out the day it had been raining sporadically which I though added a whole lot of character to the adventure. By the time we reach the final destination we were absolutely exhausted and covered from head to toe in dirt and mud (thanks to the rain) – however it was a feeling and sense of accomplishment from not only finishing the bike ride but being able to enjoy and have the opportunity to experience a side of Bangkok which your average traveller would not see. No bright lights, smelly streets, prostitutes, beggars or people hastling you to buy cheap and nasty fake crap instead the surrounding countryside of Bangkok allowed us to take in luscious green jungles and farms, peaceful wildlife, quiet and friendly locals and quite clean and respectable villages.
We finished up at some local markets where we met up with the van and we bought some sugar cane juice from a little local Thai girl to replenish our energy. Woweee was this stuff sweet so much so that it made me feel a little queezy! Stong stuff!!
My brother and I both thoroughly enjoyed our day riding through Minburi and the country side of Bangkok and we would highly recommend takeing such a mountain bike tour for any independent traveller or any person keen to get out of the smelly hustle and bustle of Bangkok and to get a different perspective of this beautiful part of the world.
This is a rare chance to experience the Bangkok of old! In a multi-cultural, naturally beautiful part of Thailand that has not been overwhelmed by modern Bangkok.
Here is some basic information:
Day Tour:
Departs every Monday and Thursday
(with a minimum of 2 people)
Price: 2,500 Thai baht
Includes:
Bike and Helmet hire
Pick up at 7:30 am / drop off at 5 pm in Bangkok
All entrance fees to temples, museums, sites mentioned.
All water and snacks whilst riding
Lunch
Local English speaking guides
Accident Insurance
Excludes:
Alcoholic beverages
Tips for guides
Any services not mentioned in the itinerary
After doing some internet research on Spice Roads I found their website www.spiceroads.com and realise that they do tours all over South-East Asia – NICE WORK GUYS KEEP UP THE GOOD EFFORT!!