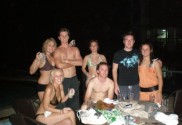 Hello HANOI, Vietnam! I didnt think it could get more chaotic or hectic than Bangkok, but then I arrived in Hanoi and it was on a whole new chaotic level. Met some great new Aussie friend and went for a midnight swim.
Heartbreaking scenes from the violence and damage that is sweeply the streets of Bangkok. Warning to all backpackers and travelers to make your personal safety priority number 1.
Leaving Vang Vieng still with a hangover and a sore shoulder from the rough treatment I have put my body through – it was all so well worth it!! On my way to the capital Vientiane in Laos to see what it has to offer.
Most people tube along the Mekong River in Vang Vieng quite blind drunk. Well thats what I did the day before, however with a massive hangover I decided to take a sober and scenic view of the infamous tubing adventure along the Mekong River in Vang Vieng.