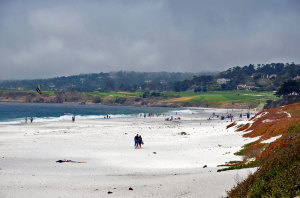 Taking a break from our San Francisco to Los Angeles Road Trip
On our road trip from San Francisco to Los Angeles we decided to divide up the trip into two days and we were able to do this by choosing to spend the night at a quaint little seaside town called Carmel.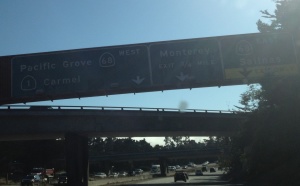 I was actually told by my Mother to go there as she had spent some time in Carmel in the 1960's and to my surprise this quiet little town was as every bit as beautiful as my Mother described it was when she visited around 50 years ago.
Carmel by the Sea is a very peaceful and quaint little town which is generally missed or avoided by the typical tourists travelling around America and in particular up and down the West Coast of America. However, much to their loss this little town is definitely worth a visit if you have the time to casually stop into experience a really different style of American seaside town which is located about 2 hours south of San Francisco.
How beautiful is Carmel by the Sea?
Carmel by the Sea is really quite magical, it is quite a surreal little town since it looks like something out of a fairytale and this is mainly due to the local houses and cottages looking like they have been designed by the gingerbread man. The landscape that surrounds this little village also adds to its beauty with incredible cliff's, white sandy beaches scattered with bit of drift wood and beautiful flora that surrounds the area.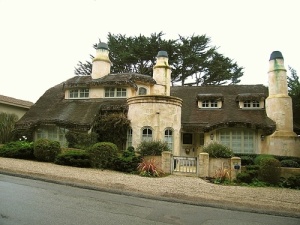 Carmel is full of culture and its one particular claim to fame is that the Mayor of Carmel is none other than the man himself, Mr Clint Eastwood. This probably explains the reason why Carmel holds annual Art and Film Festivals which are considered to be very worthwhile attending if you're into arts and film. The Carmel International Film Festival takes place in the middle of October each year.
As soon as we drove into Carmel we found our little cottage guesthouse that we were staying in for the night called The Colonial Terrace which was a very homely style of Bed and Breakfast type of accommodation.
We unpacked and settled into our little cottage house and then after a short while my wife and I decided to go and explore what Carmel has to offer. We walked up to the main street of Carmel which was lined with boutique shops, cafes, patisserie's and various other interesting arts and crafts stores.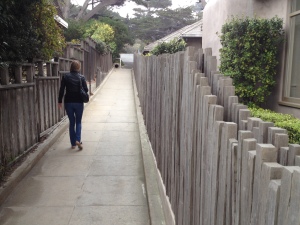 Camp fires on the beach
We came across a convenience store and I saw a huge pile of firewood in the corner with a price on it and I asked the store keeper what was with the firewood?
The store keeper quickly exclaimed "didn't you know that you can have small camp fires on the beach until 10 o'clock at night?"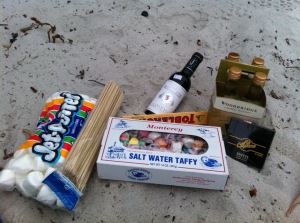 I had no idea about this since most beaches you travel to these days strictly prohibit camp fires on the beaches and this was definitely something that I wanted to do. After getting some wine, nibbles and marshmallows from the convenience store including a few logs of firewood we then headed back to the cottage and then proceeded to head down to the beach where I started to put together a small campfire on the beach.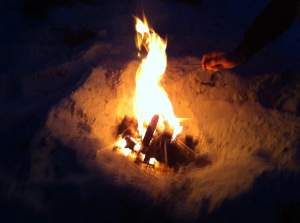 We set up a picnic around the campfire with some wine and our nibbles and I put my fire skills to the test. I must admit that my fire making skills do leave a lot to be desired. But in any event it was a fantastic experience to be able to sit on the foreshore of the beach and have a small campfire with cooked marshmallows, wine all whilst listening to the smooth sounds of the waves as they rolled in, it was such an incredible and beautiful experience that we had.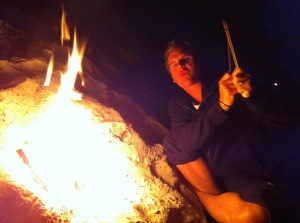 Dinner & meting the locals
After our beach fire and a quick trip back to our cottage house to get ready we then headed out to a find a nice local restaurant to have some dinner. We then headed to the main shopping streets of Carmel where we found a beautiful little Mediterranean restaurant and booked in to have a lovely meal.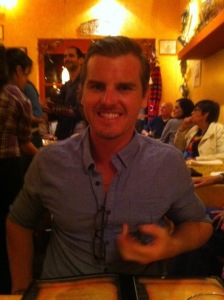 We ended up chatting to one other patrons who was on his own and we pretty much ended up merging tables and having some great conversations with this gentleman who was a retiree originally from New York but now living in Palo Alto to be closer to his daughter who works in Silicon Valley.
It's incredible the different people you can meet when you travel around regardless of what age they are. In fact the older they are generally means they have more interesting stories to tell and certainly that was the case with this gentleman that we met at the restaurant this night. He had some great New York City stories to tell us as he was a restaurant owner for 40 odd years and saw a great deal of events that occurred during that time in New York. An amazing man we met this night.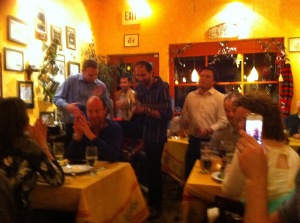 After dinner we walked around the town and felt absolutely 100% safe as it felt like a little village like Aspen except without the snow. The trees were filled with fairy lights and the locals would nod and say hi whenever they passed you on the street, it really was a surreal little town to visit on the West Coast of America. To me it seemed like Carmel was like a small European town, it was almost as though it didn't belong in America it was quite an unusual and interesting place and I'm very glad we had made the time to drop in and spend the night there as we made our way down the West Coast of America from San Francisco to Los Angeles.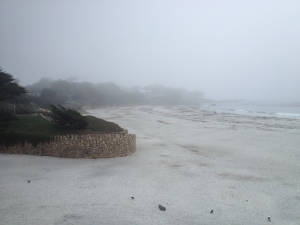 Exploring Carmel by the Sea
The next day we spent a few hours walking around Carmel checking out the interesting houses, the arts and crafts shops and of course the beautiful beaches and cliffs on the coast line.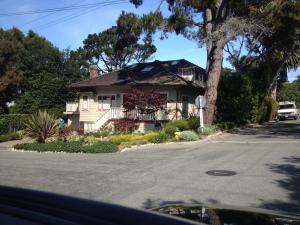 We eventually decided to get going and hit the road but if you are ever doing the drive along the West Coast of America from San Francisco to Los Angeles then I would highly recommend you make a detour even if it is just is just for one night to stay at Carmel-by-the-Sea.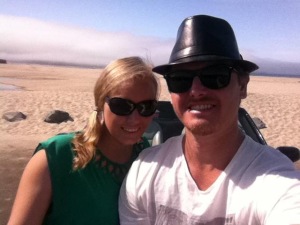 I know that my wife and I are definitely pleased that we took my Mother's advice and visited this beautiful little town, it is a little place that we will never forget and we both felt that we will return to visit Carmel-by-the-Sea again one day in the future.