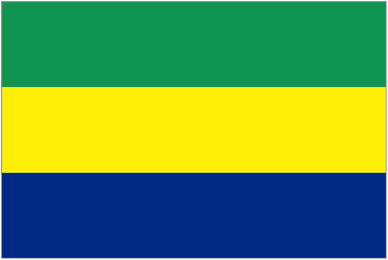 Population: 1.4 million (UN, 2005)
Capital: Libreville
Area: 267,667 sq km (103,347 sq miles)
Major languages: French, Bantu-group languages
Major religion: Christianity
Life expectancy: 54 years (men), 55 years (women) (UN)
Monetary unit: 1 CFA (Communaute Financiere Africaine) franc = 100 centimes
Backpacking in Gabon
The Gabonese Republic, Middle Africa, is one of Africa's wealthier countries. Small but terrible, the former French colony Gabon fares well in terms of economy due to its oil-reserves, at least a limited few do, including none other than "Mr. Personality" former president Omar Bongo with assets purportedly greater than the Queen or Bono. A president in the hot seat, Bongo, even as the longest serving leader in Africa from 1967-2009, valued a lot how the masses perceived him. Like most deviant, devious, and defiant leaders of African countries, Bongo had an immense issue with transparency while he was accused of spending Gabon's oil-money unwisely. Regardless of the nation's developments, with stained hands like Gabon's commander-in-chief, the face of poverty is far and away dispensable. Still, thumbs up to Bongo for his efforts on nature preservation in the country.
With the oil industry boom, Gabon did not second guess the priority the industry was consigned to. Slowly, thus, the farming industry collapsed while the tourist industry advanced no further and is without sufficient infrastructures to encourage so. Local provisions are inadequate and as such, food is mostly imported from Europe or South America. Gabon is basically not producing or exporting things other than oil. The gift of oil-rich countries to the travel culture is thus aimed for the class of travellers with money and time to spend and waste. Glitzy glamorous cities, glittering white-sand beaches, lush green rows of forest cover, evidently, happy primates, and a small population of locals and travellers with tons of room to spare, it does tend to get interesting in Gabon.
GEOGRAPHY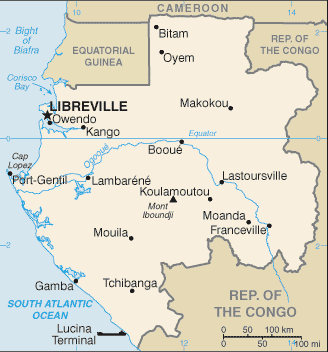 Gabon (1 00 S, 11 45 E) is a territory with an area of 267,667 km2 that lies along the Atlantic coast of Middle Africa, and along the equator. Gabon has 3 distinct zones of coastal plains to the west and south, mountains to the north, and savannah to the east. The country is a significant eco-region with almost 85% of rainforest cover, at the same time, the coastal plains form a significant portion of the World Wildlife Fund's Atlantic Equatorial Coastal Forests Eco-Region owing to Gabon's latitudinal location, climate, topography and preservation efforts. The highest point is the Mont Iboundji at a 1,575 m above sea level.
CLIMATE
Gabon has an equatorial or also tropical climate. Therefore, it is, in the main, unbelievably moist and hot but with two rainy and two dry seasons. Temperatures range from a minimum of 20 °C to a max of 33 °C.  January is the hottest month, but after thus, from February to May, rainfall is extremely heavy due to the condensation of moist air. Onwards, till September there is hardly any rainfall. Weather continues to vary depending on region and altitude.
PEOPLE
The current Gabonese population stands at 1,545,255 of mostly Bantu origin is among the least densely populated countries in Africa. The largest ethnic groups are the Fang and the Nzebi, then Baponou, and Obamba complete the four major ethnic groups, although, unique in Gabon are the blunt boundaries between ethnicities even with 40 groups each of distinct culture and language with constant contact, interaction, and intermarriages. Apart from the indigenous tribes and other African nationals, Europeans comprise around 10% of the population, majority are French.
LANGUAGE
Correspondingly, FRENCH is the official language spoken by an estimate of 80% Gabonese. For that reason, French is the prevalent cultural influence. In spite of this, tHhHHhe national vernacular is FANG spoken by 32% of the population as a first language or mother tongue. ENGLISH is used and spoken by a little demographic particularly by students, workers in the broadcast and tourist industry, and immigrant West African cab drivers, but attempts for the population to improve their English are accomplished with school programs.
RELIGION
With the intermittent European influence, majority of the population, approximately three-quarters, are Christians. The greater lot are Roman Catholics, whereas Muslims form 5-10%. Finally, a very small margin remains in adherence with animist and traditional practices.
ATTRACTIONS
By and large, Gabon is noted for its efforts of nature preservation, with astounding heart and dedication from its former leader Omar Bongo Ondimba who put the country on the map as an unparalleled nature paradise of rich biodiversity when it was submerged in absolute anonymity. At the present moment, Gabon is highly appreciated for its accolade in ecological achievements lauded by the World Wildlife Fund and UNESCO, making it a noteworthy ecotourism destination in the future. Take the ecosystem of Lopé-Okanda, a UNESCO World Heritage Site, as it nestles in both savannah and tropical rainforest zones a grand diversity of species, from the smallest vexing bug to the larger-than-life mammals. The Loanga and Ivindo National Parks are pristine nature reserves with an astounding array of wildlife, but everywhere is just as admirable, clean, and beautiful.
And what of the Crystal Mountains National Park, home to a surreal misty forests sprawling with begonias, orchids and more foliage. Some visitors actually frown upon the lack of diversity in the country as a tourist destination for it is a land that's almost entirely forested. But soon enough one will discover, one who would have to be a nature-lover in the full essence that while the immediate allure is the dense foliage, all the diversity is tucked away in pockets and corners. Libreville for instance, flounces in a medley of different elements. Located at the Atlantic coast, Libreville, the seafront Bord de Mer with the sweet soothing smell of trees and ocean mist is a celebrated local hotspot as much as the Parisian-style city centre. With a capital that includes a stunning beach and cultural items like cinemas, nightclubs, festivals and bistros, in one of Africa's most expensive cities, it's impossible not to have fun in Libreville (caution with the blood-bereft mosquitoes).
FOOD
The Gabonese cuisine has a lot to do with enjoying a traveller's time here. Food though can mighty expensive without a stretch of imagination, but do know that neither the food nor the tap water can aggravate the traveller's stomach. Traditional cuisine is widely enjoyed as much as the fusion cuisines that define the more modern Gabonese cuisine. Typically, it is spicy and starchy attributed by the staple, the cassava tuber. Also, the leaves of the tuber are used as cooked greens. Spices are used to counter the blandish taste of cassava as well as give character to wild meat. To the traveller, the spices work well with masking game meat, should they be unaccustomed to the strong flavours. Essentially, fried or stewed, Gabonese food is colourful, full-bodied and varied from ingredients to cooking methods.
Fried or dried, stewed or underdone, fish and goat meat is dominant, but preferred are beef and mutton, as do we all. Without consequence, to some Gabonese, crocodile meat is a favourite as the last. The national dish is poulet nyemwe, similarly in many countries within the region is chicken cooked in a palm butter base. Now, plantains, a colonial legacy, did a lot with the sweet and savoury culinary prowess of Gabon from being a main meal factor to a dessert wonder, floured, fried, baked, and topped with sour cream and sugar.  Au natural, fresh fruits can wash down all traces of spice in the palate. Certainly, the international cuisine has landed in Gabon in the form of Chinese food and others, but would you dare miss out on the whole authentic flavours and experiences, really?
***
Backpacking in Gabon
Backpacking Addictz looks at Backpacking in Gabon