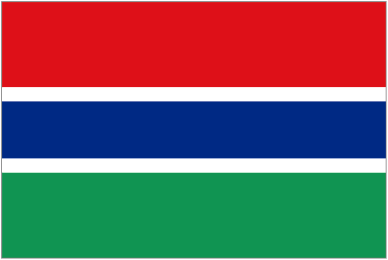 Population: 1.5 million (UN, 2005)
Capital: Banjul
Area: 11,295 sq km (4,361 sq miles)
Major languages: English, indigenous languages
Major religions: Islam, Christianity
Life expectancy: 54 years (men), 57 years (women) (UN)
Monetary unit: 1 dalasi = 100 butut
The Republic of The Gambia, West Africa, the land of sun, sea, and land, and the president who claims to have the cure for one of Africa's greatest health concerns, AIDS. The Gambia is a tiny streak of land that is rather easy to miss on the map. No wonder we missed discussing it intensely in history and geography.  As a topographically miniscule nation, it offers underrated fun especially for a specific class of travellers – bird watchers. As such, it has a graciously lax and accommodating nature-based tourism that unfortunately many do not know about since many tourists just pass through the country rather superficially.
Truth is, in many ways, the country is a cool small getaway encompassed completely by Senegal where one can maximize a week-long vacation to one country. It is gratifying to travel in the Gambia only because it is possible to see a lot of the country and just up and leave. It is hard to get in the wrong with the locals because of its liberal culture. Although, being predominantly Muslim, people do value traditions and conservative clothing.  It is one of the safest countries in Africa, but night travel is advised against. All in all, there is a sundry of hidden Gambian holiday adventures for all kinds and class of traveller. And, not to worry, ol' Lamin (a classic male Gambian name as Joe) will always be there to help.
GEOGRAPHY  
The Gambia (13 28 N, 16 34 W) has a total of 11,295 km2 and is the smallest country in the continental mainland Africa. The terrain that outlines the Gambia River like a margin is swallowed whole by Senegal and is its border from the north, south, and east. Exceedingly fortunate for the country, the decision to plot a territory in this manner has reaped great benefits for the country, particularly creating a diverse and favourable habitat for its species of rare birds and wildlife, which are the very essence of Gambia's tourism. Generally, Gambia's a long flood plain framed by low-lying hills that the highest point is unnamed point, only 53 m high.
CLIMATE 
Gambia has a tropical climate with a wet and dry season. The wet season happens from June to November for the most part, although it tends to be hot still. Rainfall has decreased by 30% in the last 3 decades and droughts also occur. The dry season however is oddly cooler and takes place in the country from around November to May.
PEOPLE 
The Gambian population estimates to 1,778,081 where 99% are Africans of a wide variety of ethnic groups each preserving its own language and culture. The largest ethnic group with 42% of the population is the Mandinka tribe, followed by the Fula, Wolof, and the Serahuli. An approximate of 4,000 individuals are non-African population of European (British) and Lebanese descent.
LANGUAGE 
The official language of the Gambia is ENGLISH, being a former a British colony that it is. Many of the Gambians speak laudable English as a result. The indigenous languages are preserved by each ethnic group, hence, typically synonymous to the tribes, like the major languages of MADINKA, WOLOF, FULA and many others. Due to its proximity to French-speaking Senegal as practically an enclave, FRENCH also comes in handy.
RELIGION 
Islam is the predominant religion in Gambia. The 90% of Gambians adhere to Islam as their way of life, so despite western influence from colonization, a conservative approach to things exemplifies the Gambian. While a marginal 8% constitute the Christian demographic, Gambians practice religious tolerance and observe the holidays of both religions. The very small remainder remain with indigenous religious practices on the other hand.
ATTRACTIONS 
There are many reasons to come to Gambia, albeit only few are known. With its developing tourist infrastructure, a sundry of adventures are sprouting in this nation they call the "smiling coast". Much to revel about this tag as the sun-and-sand tourist package is not the Gambia's famous attractions. While the 800 km-coast isn't sparse in beauty, the beaches are simply unsuitable for swimming with crocodiles and busy fishermen in tow. Not far from Banjul though, lazing away and bumming around in bars and restaurants along the beach are among the top activities of the locals and tourists. Still, bird-watching is a huge business in the Gambia and everywhere there are fantastic gardens that serve as playground for the at least a dozen species of sweet and vibrantly-coloured creatures.
The Gambia has a huge range of habitat adept for sunbirds, kingfishers, to vultures because of the wide river territory. For this, the traveller may desire to check out the nature reserve in Abuko just outside Serekunda, and with the help of the Birdwatchers' Society, a falcon will clearly not be a hawk. Georgetown is not only great for spotting birds but also for some hippo meet-and-greet and a history lesson. There are several mangrove creeks, but cruising along the Gambia River by boat is also one way to go about, especially if you're a die-hard romantic. Then again, cruising with the birds along the river via microlighting is hands-down more dramatic and thrilling, or that's just me. If all fails, shop all the stress away in Banjul's Albert Market. There are pretty decent trinkets, batik textiles, woodcarvings in the various bengdulas.
FOOD 
The Gambian cuisine may not be so stimulating as the surroundings, and is fundamentally similar to the food of the region, like fufu. Fufu is a starchy staple basically made from cassava or coco yams, simulating mashed potatoes although the taste and texture would suggest this as something thicker and starchier. The Gambian national dish is domoda, which is meat stew with vegetables or potatoes in peanut sauce served with rice, while many prefer benachin or a rice dish mixed with meat, fish, or vegetables with tomato paste, onions, and spice. There are various cooking traditions and renditions as there are cultural groups, but the dish is so savoury, the taste for it is acquired. Be wary of red hot chillies and peppers on your plate though. In the morning, how about some more peanuts in your churah gerteh? Peanuts are, after, the main crop of the Gambia.
***
Backpacking in Gambia
Backpacking Addictz looks at Backpacking in Gambia