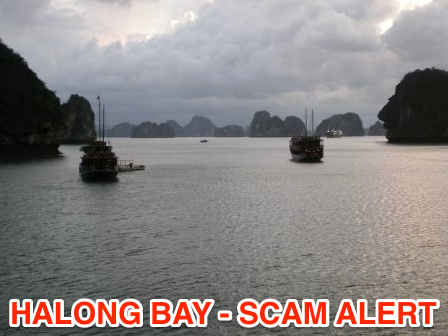 Booking my tour to Halong Bay

Realizing I had been ripped off

Speaking up

Demanding a refund

Standing my ground

Beware of the Halong Bay scams
Well it has been a while since I have posted a personal blog on here at Backpacking Addictz. My last post focused on my time in Halong Bay and Cat Ba Island which probably did not live up to its hype yet I am still very happy to have experienced the adventure.
Booking my tour to Halong Bay
My discussion on this blog post focuses on my experience in booking my trip to Halong Bay and Cat Ba Island, and the problems that I experienced with the tour package that I paid for yet did not receive.
Initially when booking my package for the Halong Bay trip I decided to book my tour package through a hotel/guest house tour booking station which are very commong in South East Asia.  I was presented with 3 package options – Standard ($45), Deluxe ($90) and VIP ($140).
I decided that I would lash out and live it up a little with the Deluxe package at double the price of the Standard package. I was told that I would be on a more luxurious type of "Junk" boat for one night and then I would spend a night in a 4 star hotel on Cat Ba Island. I thought that with all the budget travel I had been putting myself through recently 'why not splurge a little and enjoy this trip in a bit of luxury or deluxury' haha.
Realizing I had been ripped off
The stark reality became apparent when I began to make friends with people of the "Junk" boat which I was staying on the first night in Halong Bay. Other backpackers were saying how they had paid for the Standard ($45) package which immediately raised alarm bells for me since I was supposed to be on a more luxurious "Junk" I suppose with other people who also paid for the Deluxe package. Whilst I did not mind at the time since I was enjoying the company of some great people, the issue did start to grow on my mind a little.
The next day when we were to depart the "Junk" and arrive on Cat Ba Island I continued to wonder if I had been ripped off or whether the totally unorganised Vietnamese people and tour operators had made an honest mistake.  However, it became ubundantly clear to me that I was a victim of a tour scam when the tour operator ushered me along to exactly the same hotel as the other backpackers who had paid for the Standard package.
Speaking up
I quietly pulled the young female tour operator aside and told her that I was being mixed in with the travellers that had paid for the Standard package and that I was told that I would be staying in a 4 star hotel for my night on Cat Ba Island. She tried to say that I was staying in a 4 star hotel and that I was on the Deluxe package however I did not buy that and persisted her on my issue.
Eventually she decided to make a few calls and organised for me to stay in a separate hotel which was definately not 4 star. I still wasnt happy because I thought that I would have just rathered pay for the Standard package and stay with the other cool backpackers that I met on the trip. I ended up catching up with them all that night anyway for a really big drinking session at the Blue Note Bar.
The next day we all returned back to the mainland together on the same boat and had the same lunch and caught the same bus back to Hanoi.
Demanding a refund
I got off the minibus at Hanoi feeling as though I had missed out on the Deluxe package and felt rather ripped off. So I decided to speak up about it. I went back to the tour booking desk where I had bought my ticket from initially and I spoke with the girl who had actually sold me the ticket. I explained my problems to her and she literally tried to pull every single excuse in the world out to say that I paid the correct amount for the package that I was provided for.
I faced a stiff opponent, despite her gender and small size. I seriously thought about just saying what the hell, you got me this time. But then I thought to myself that no I should have a go at getting some of my money back, then that way I wouldnt feel so ripped off.
So I sat thyere at the tour booking desk arguing for 45 minutes with the young lady, she made about 4 different phone calls, gave a vast array of excuses and even went so far as to say that I did go on the Deluxe package tour. Clearly this was a lie since I socialised the whole time with people who paid for the Standard Halong Bay package.
Standing my ground
I ended up standing my ground and simply saying that I was not going anywhere until I got a refund. After saying this a number of times the tour lady began to realise that I was serious and that I wasnt going anywhere. She ever so reluctantly refunded me $30USD which was short by about $15USD.
Some might say that I was simply being a tight ass and that being ripped off in Hanoi was all part of the experience, however I was seriously glad that I did stand my ground and demand a refund back since $30USD was equivalent to about 4 nights worth of backpacking accommodation and for a budget conscious backpacking this was important.
Beware of the Halong Bay scams
I guess the lesson to be learnt from this experience is to really be on your game making a booking with a tour desk operator. I let my guard down on this occasion and did not ask around and bargain for a better price and subsequently I got stung – well a little in the end!
Halong Bay tour operators are very renouned for pulling all sorts of scams for unassuming tourists so please be on guard and ask around many different tour booking places for the best rate.
If you are so unfortunate to be the victim of an evident scam or rip off, I would suggest that you argue for a refund and whatever you do dont back down. Even threaten to report them to the Hanoi Bureau of Tourism if need be.
***
Josh Boorman
Editor-in-chief
Backpacking Addictz
Twitter: @backpackaddictz