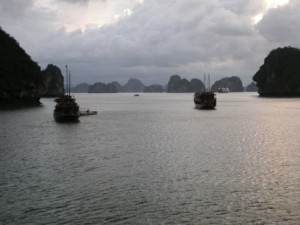 I got up and went in search for some breakfast but due to the chaos that is Hanoi it is so dam hard to find anything for a stray foreigner like myself. I went in search for some breakfast and ended up buying more cheap DVD's haha I am a sucker for a good movie and when they are so dam cheap it is so hard to not be enticed. I need to buy a new bag since I have bought so many souvenirs and junk.
This should be a lesson to all backpacker not to buy so much crap on your backpacking travels, ideally it is best to wait until you reach you final destination before buying up big on gift, souvenirs and other items which are really not needed on your backpacking adventures.
I came across a tour place that specialized in Halong Bay tours, I decided to make a booking spend 1 night on a Junk on the waters of Halong Bay and then spend another night on Cat Ba Island. Should be interesting since I have heard so much about the amazing sights around Halong Bay.
Before I knew it the day had almost passed and I found a very authentic looking little French café just around the corner from my guesthouse where I ordered spaghetti bolognaise – oh my goodness possibly the best spag bog I have ever had, washed down with a pint of Heineken I was as happy as a pig in shit.
I was happy that I had taken the last couple of days pretty easy in Hanoi just doing a bit of city site seeing and aimless wandering since I think the next few days in going to Halong Bay and Cat Ba Island could very well be an exhausting time. I went to a local food shopping centre to stock up on some food supplies and snacks for the next few days in Halong Bay.
I then returned back to the guesthouse and to my surprise the State of Origin was being played on the satellite Australia Network channel. Now for those of you who do not know what the State of Origin is back home in Australia it is the toughest Rugby League competition in the world…hands down. It involved the Queensland team and the New South Wales team and they play 3 games per year and the winner of 2 of 3 games takes the series. It is one of the most popular sporting events in Australia and even attracts an overseas rugby league audience. I cracked open a tinnie of Tiger beer and pigged out on some chocolate ice cream – how very Aussie of me.
I spoke to my dad and my girlfriend to catch up on the realities of back home. Dad sounded half pissed but swore he wasn't drunk, hahaha what does he think I came down in the last shower….It's State of Origin night of course he would be pissed. Ended up watching 50 cents "Get rich or die trying" movie as I drifted off to sleep.
***
Josh Boorman
Editor-in-chief
Backpacking Addictz
Twitter: @backpackaddictz