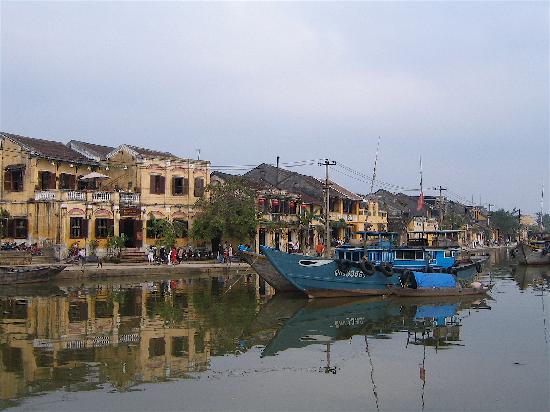 Well once again I awoke in South East Asia with another bumping hangover, must have been a good night at the DMZ bar. It was about 10am and I immediately started getting ready and packing my stuff for a 12pm checkout.
I sluggishly got my act together and got to the checkout where I was able to purchase my bus ticket to Hoi An. The bus was leaving at 2pm which gave me some time to go and find some lunch to alleviate this killer headache.
The bus arrived at 2pm and as per usual it was chock a block full of people but I was able to find a small spot to plonk myself for the trip to Hoi An. On the way to Hoi An we passed through the larger town of Denang which was quite a pretty town situated on the seaside. I kind of wish I had of jumped off and spent a night or two exploring Denang but instead I stayed on the bus and got off at Hoi An which was approximately 1 hour from Denang.
I jumped off the bus, grabbed my backpack and consulted my trusty Lonely Planet guide for somewhere to stay since it was starting to get dark. I found a cheap little guesthouse along the main strip for about $8 per night which had air conditioning, satellite tv, nice bathroom and an indoor pool. Hmmm sounds like I am flash packing as opposed to backpacking at this point in time – but I hate that term 'flashpacking'.
Hoi An gave me a really warm, friendly, relaxed beach type of feeling which I was absolutely loving. No wonder they call Hoi An the suit capital of Asia, as every 3rd or 4th shop was a suit tailor which was quite bizarre and overwhelming.
After grabbing a bite to eat for dinner I headed back to guesthouse to jump on the Internet and do some research on which is the best tailor to go to get some quality threads made up.
I have a really relaxed, warm and fuzzy feeling about this place I think I am really going to have fun here 🙂
Stay tuned for my next blog post on how to pick a quality tailor when visiting Hoi An.
***
Josh Boorman
Editor-in-chief
Backpacking Addictz
Twitter: @backpackaddictz