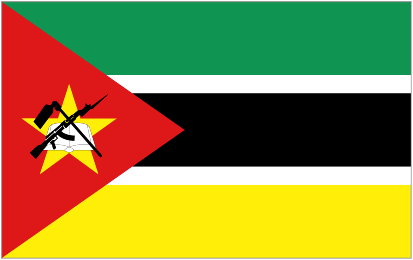 Population: 19.5 million (UN, 2005)
Capital: Maputo
Area: 812,379 sq km (313,661 sq miles)
Major languages: Portuguese (official), Makua-Lomwe, Tsonga, Shona, Swahili
Major religions: Indiginous beliefs, Islam, Christianity
Life expectancy: 41 years (men), 43 years (women) (UN)
Monetary unit: 1 metical (plural meticais) = 100 centavos
Backpacking in Mozambique
The Republic of Mozambique in South-eastern Africa is a splice of reddened land right at the edge of nowhere of the world (or Africa at least). Its location Northeast of South Africa safely touching the Indian Ocean with the protection of Madagascar creates for Mozambique among the most stunning and serene beaches, what it is greatly known for in the first place. And with that Portuguese persuasion, add the beaches, the vibe feels South American in South of Africa. For that reason, Mozambique has become a hotspot for travellers with even more greater potential in the near future. Yet, it remains one of the poorest countries in Africa, and the contrast with South Africa couldn't have been more stark.
Seventeen years of conflict left the country poverty, red soil, and too many landmines, very closely to how Mozambique was represented when Blood Diamond was filmed here and in SA. Without overstating, poverty has gotten out of hand that most of the wildlife has been killed for the locals' survival and sustenance – so much for an African safari in Mozambique. Unless you didn't get a memo, the country isn't the ultimate when it comes to wildlife spotting. Hence, nature parks are dotted with people instead of wildlife, and developing a Mozambican wildlife infrastructure would mean having to choose between people and animals. We probably guessed an eviction is happening. Just hope there's a neat and decently-sized housing for the locals. Lucky them for the Bazaruto Archipelago!
GEOGRAPHY
Mozambique (18 15 S, 35 00 E), East of Africa, is a 799,380 km2 chunk of mostly coastal lowlands and central highlands. High plateaus to the northwest and mountains to the west, the highest point is Monte Binga 2,436 m above sea level.
CLIMATE
Mozambique has a tropical to subtropical climate varying with altitude but within that, generally, are two seasons, a wet and a dry season. The wet season is from October to March, while the dry season is from April to September. In Maputo, the mean temperature ranges from 13-24 °C in July, and in February, 22-31 °C.
PEOPLE
Mozambicans currently total at 22,061,451 with the majority settled in the north-central provinces of Zambezia and Nampulo, talking 45% that is. Mozambique's ethnic groups are numerous African tribes which collectively constitute 99.66% of the population such as the Makhuwa, Tsonga, Makonde, Shangaan, Shona, Lomwe, Sena, Ndau, and many others. The Makhuwa is the dominant group with an estimated 4 million population.
Europeans (0.06%) and Euro Africans (0.02%) make up a margin of less than 1% of the total populace, much like the Indian/South Asian population (0.08%). Infant mortality is a large problem with a high rate of 10.4% making it 6th in the world with the greatest percentage of deaths to infants. Also, Mozambique ranks 5th in the world for the most number of people living with AIDS where there are 1.5 million.
LANGUAGE
Mozambique's ethnic draft represents subgroups with diverse languages and dialects, but PORTUGUESE is the official language although only 8.8% speak it as a first language, and 27% as a second langue. Beyond that, there are various indigenous languages such as EMAKHUWA (26.1%), the most widely spoken and local vernacular, XICHANGANA (11.3%), ELOMWE (7.6%), CISENA (6.8%), ECHUWABO (5.8%) and various foreign and indigenous languages.
RELIGION
Based on the National Census, 40% of the Mozambicans have retained their indigenous culture and beliefs, despite religious influence of Islamic traders and European colonizers. About 40% of the population is Christian, whereas 20% are Muslim.
ATTRACTIONS
Mozambique is Africa's up-and-coming attraction within sufficiently good reason. Leonardo DiCaprio did great advertising one of the 5 pleasure islands of the Barazuto Archipelago by spending time with his family post-filming the Blood Diamond.   It's a get away with amazing beauty to boot. Stunning beaches sparkly warm white sand and warmer topaz water. In Mozambique, water is a dear friend, and other places that might be of interest are the popular beaches of Ponto do Ouro, Malugane, and Inhambane teeming with beach resorts like Tofo, Xai-Xai, Vilankulo, and Chonguenjust off the mainland which are also spectacular spots for diving and snorkelling with dolphins, manatees, and rays, or fishing for marlins and salmons, in the Indian Ocean no less.
Do you remember dreaming about walking hand in hand with your lovey on the beach? Bet that scenario looked something like being in a Mozambican beach. While it's noble that the government are attracting big shots like Dicaprio to bring in large dollar sums, backpack travel is deeply encouraged because of its direct contributions to local development. Bring a pair of binoculars for some bird and spotting in a few of the precious safaris of Mozambique like Gorongosa and Marromeu National Parks. In one of the country's 12 nature parks, home to all manners of wildlife, the "big five" are the VIP's: the lion, leopard, rhino, elephant, and the buffalo. Come to Mount Murresse near Gurúèin Zambezia and its lush rows of green at the tea plantations of Northern Mozambique.
Finally, when in need of vibrant Mozambican atmosphere, Maputo resonates with its Latin vibe. This is the clean city of Mozambicans, well-credited for beautiful architecture, people and food. Maputo is where the flavour, and where the traveller will see that it's just as beautiful above the water as it is beneath.
FOOD
Speaking of fishing and flavour, keywords of Mozambican cuisine, one can never be in Mozambique and not try the authentic and fresh gastronomy of the country. Most importantly, this is seafood paradise, especially along the coast. Matapa,a seafood stew of clam, crab, or prawns with cassava leaves then served on rice, is a staple in Mozambique.
Piri-piri or bird's eye chilli is often used in sauces and marinades often with onion, garlic, vinegar, and lemon for Portuguese roast and grilled chicken and fish dishes. Best with this is the Lorenzo Marquez prawns, Mozambican prawns exported around the world. Even local dishes like the staples maize and what not's are prepared with the Portuguese touch as well. Some ten thousand miles apart, The street grub in the city are also of Portuguese flair and delish like the steak sandwiches or pregos, batatas fritas (fries), sandes de queijo (cheese sandwhich), fried chicken, burgers, meat stews and rice.
All in the name of confection, sugar is relished in Mozambique. The filhos de natal are honey yummy fried goodness, just like bolo polana which is cashew and potato cake. Mozambique shares a common love for a Portuguese dessert with the Philippines, bebinca or bibingka, a clay-baked pudding. Truly, Mozambique is a foodie's wonderland where there is an unprecedented luxury of fresh flavours and choices.
***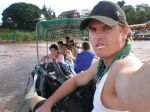 Josh Boorman
Editor-in-chief
Backpacking Addictz
Twitter: @backpackaddictz
Backpacking Addictz is a website set up by backpackers for the use of backpackers. On this site you will find a lot of very valuable backpacking information surrounding different destinations, countries and experiences from people's different backpacking adventures throughout the world.
Backpacking in Mozambique
Backpacking Addictz looks at Backpacking in Mozambique.