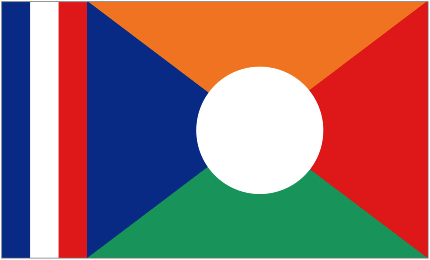 Backpacking in Reunion
Réunion is a full-on French province or "department" that is not an independent state, but an island you'll surely want to spend some time in, nonetheless. Generally, the French Island of Réunion is unheard of. Not a lot of people have been here. However, it's incredibly stunning and safe for the most part. But, what do you know, it's an amazing tourist destination and a "hotspot", for more reasons than one. Well, it is surely a hotspot, as in a nice place to have a vacation but coiled "hotspot" more so because the only safety issue the traveller will come across in the island is volcanic activity. It surely is more than an island endowed with active volcanoes.
Speaking of, is there anything to discuss with active volcanoes in terms of general safety, especially when one has just erupted January 2010. Nevertheless, it has one of the "safest" volcanoes and the eruption was not so bad as to create a landmass. Réunion may be compared to Hawaii that is also located above a hotspot in the earth's crust. Réunion stands where Mauritius used to be, and fortunate it is to be where it is now for the thick forest and foliage cover that easily thrives in a terrain with a volcanic composition. Mainly unheard of, relatively talked about, the Reunion must elicit some curiosity from the traveller who's on the lookout for unchartered territories, extraordinary adventures, and spectacular nature.
GEOGRAPHY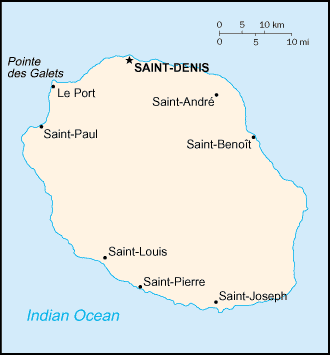 The Réunion (21 06 S, 55 36 E) is 2,512 km2 land right above the earth's hotspots. The general topography constitutes coastal plains rolling into interior highlands of volcanoes and mountains. The highest point in Réunion is the Piton de Neiges, a volcano that stands at 3,070 m above sea level, regardless of the rain, snow does not ever fall. The island has thick forest covers especially on slopes of volcanoes as the Piton des Neige and Piton de la Fournaise, which erupted just a few ago.
CLIMATE
Of course, that is because the climate is chiefly tropical. Only 200m from Mauritius, Réunion is also hot and wet from November to May, and warm and dry from December to April. Cyclones affect the country from months May through September. The Réunion Island is a far cry from Hawaii, albeit it is compared to it not just because of its hotspot location and volcanic nature, but its climate as well.
PEOPLE
There are no formal statistics of Réunion, but estimates point at a population of 800,000 people. The country is slightly bigger, but less densely populated than Mauritius. The general ethnic make-up, like its traditions, is highly similar to Mauritius and Seychelles. Creoles, those born on the island of various ethnic origins, is the major ethnic group of the Reunion. The Creoles could be a mishmash of any of these ethnic groups: European, Africans, Indians, Malagasy and Chinese. Whites constitute an approximate of 25%, another quarter are Indians, a tiny 3% are Chinese, and the rest are possibly Creoles.
LANGUAGE
Officially, it is FRENCH that is used for matters of the state, media, and education because it is a French department after all. However, REUNION CREOLE is more widely spoken by the lot of the population. ARABIC, CHINESE, and SOUTH ASIAN languages are used by ethnic enclaves, but the younger generation converse in French for the most part.
RELIGION
As a concoction of cultures and people, religion is blended much the same way. People have relatively high tolerance for religion. Roman Catholicism is the predominant religion, while Islam, Buddhism, and Hinduism are peacefully coexistent and represented.
ATTRACTIONS
A travel to Reunion is according to the traveller's preferences. Luxury or economy, this is Hawaii in another zone of the planet, but different. In fact, I may have done some injustice comparing Reunion at all. Natural surroundings particularly the attractive foliage are its main allures, that's why hiking is amongst the most enjoyable activities in Reunion. Hiking trips to mountains are what Reunion is best known for, and unlike Mauritius and Seychelles, the state is more backpacker-friendly with convenient bus schedules and hostels. Now, don't expect Reunion to be a lacklustre. For what it's worth, travel here isn't just whistling and strolling about the lush of the extinct volcano, the Piton de Neiges or a local waterfall, which, might I express sincere enjoyment for.
Any parcel of land walked on does feel like a holiday. But only an ignoramus would brush off the Reunion as a life-size national park, although it technically is one, with its fascinating variety of landscape that's more than this scrap of island could ask the Creator for. Nonetheless, adrenaline junkies know for a fact this is a truly amazing place to be for X-sports. As a "top secret adrenaline sports paradise," wind-in-your hair opportunities are endless. Paragliding, hang gliding, sky diving, kayaking, rafting, water skiing or windsurfing, take your pick, for it's got one thing Mauritius don't – jet skis. Best spots include St. Gilles, St. Leu, Trois Bassins, St. Pierre, and for the World Surf Championship, St. Leu famous for its left wave.
Some dismiss the capital St. Denis as boring, just because everything else is exciting. Still St. Denis as well as other towns and villages are superior to any when it comes to tasting the local flavour, at most 2-3 days. St. Paul, St. Pierre, and St. Leu are all highly suggested for backpackers for its multitude of economic options.
FOOD
Reunion Island Cuisine is creole essentially, harmonizing world traditions that have been brought in by its multicultural contributors, hence the name "Reunion" in the first place in case you're wondering why the name. The flavours, amongst other things, share a similarity with the other islands of Mascarene such as Mauritius. Correspondingly, the cuisine is based on rice, beans, curries, and rougails. Creole dishes of the Reunion are heavy with French and Indian influences like cari(curry), massale (massala), and bonne mine (healthy skin), that is rice, herbs and carrots. Reunion street grub are also delightful and typical like sandwiches, pizza, salads, and what not, and with a beachfront view, food tastes better.
***
Backpacking in Reunion
Backpacking Addictz looks at Backpacking in Reunion.